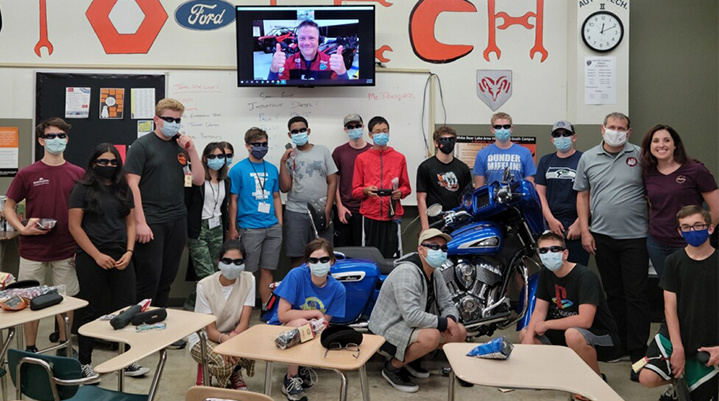 Polaris Goes to Camp to Inspire High School Students
Polaris is helping prepare Minnesota's future talent by inspiring high school students to join the mobility evolution through an innovative pilot program called The Connected and Automated Vehicles (CAV) Career Pathways Camp. Last week, Polaris provided real-world vehicle technology demonstrations to eighteen 10th through 12th graders* from twelve different high schools, one day of the week-long day camp.
CAV Camp was coordinated by the University of Minnesota's Center for Transportation Studies and hosted by White Bear Lake High School. It was offered at no cost to the campers and is believed to be the first camp of its kind in the industry. The diverse group of campers received an introduction to industry projects, technologies, and careers in the rapidly evolving future mobility industry.
Campers experienced live vehicle technology demonstrations, including Automatic braking at Luther Subaru, Indian Motorcycle with Ride Command, Navya automated shuttle, Tesla's automated parking, and a hands-on sensor overview from SICK Sensor Intelligence. Campers also participated in a future mobility scenario planning workshop and did a project naming exercise with MnDOT for the upcoming White Bear Lake Autonomous Shuttle project. They closed out the week with a University tour and a visit with the new University of Minnesota MnCAV Research Vehicle.
The Indian Motorcycle and RIDE COMMAND demo
Tammy Meehan Russell, from The PLUM Catalyst, and Joe Nuxoll, Design Director of Digital Products & Experience at Polaris, who joined via Zoom from his shop in Sunnyvale, Calif., inspired campers through a fun and interactive discussion and demonstration of an Indian Chieftain Motorcycle outfitted with the connected vehicle system RIDE COMMAND. The students learned directly from a world-class design director about exciting new technologies being brought into Polaris vehicles, and how they could follow a path to a fun and exciting career and industry.
Joe engaged students with a combination of entertainment and learning through his personal story of love and passion for all things powersports, art and engineering. Campers received Indian Motorcycle branded umbrellas and sunglasses at the end of the interactive session. Bridget McLennan, Vice President of Polaris Dealer Services, provided the swag and support for the event, and told the students, "Rain or Shine – you'll be prepared!"
Based on student feedback, the pilot was successful in its goal to inspire new career pathways in transportation to build the industry's necessary future talent. "Everyone should be taking CAV Camp," said one of the campers. "It shouldn't be just a camp, it should be a CAV class! There's just so much good stuff to learn!"
The journey to a CAV Camp Pilot
In 2019, Minnesota Governor Walz signed an Executive Order that established the Minnesota Governor's Advisory Council on Connected and Automated Vehicles (CAV). In February 2020, the Council recommended the formation of a Minnesota Innovation Alliance, which includes five different committees dedicated to taking the vision of the Governor's Council and making big changes in transportation in the State.
Patrick Weldon, Director of Advanced Technology at Polaris, serves on the Governor's Advisory Council as co-chair of the State's Innovation Alliance Labor & Workforce committee, which has a top priority to start building and inspiring the future workforce in the state. Committee members, including Polaris, The PLUM Catalyst, University of Minnesota and M-State Colleges are collaborating with the Minnesota Department of Transportation (MNDOT) and the Minnesota Department of Employment and Economic Development (DEED), to kick off pilot projects to prepare the state's talent for the upcoming future mobility evolutions such as connectivity, automation, and electrification. CAV Camp is one of those pilots.
The PLUM Catalyst has been working closely with Patrick and the Polaris team on workforce and career pathways efforts, with a specific focus on preparing and growing the future talent for the upcoming technology revolutions: connectivity, electrification, automation. The PLUM Catalyst recently purchased an Indian Motorcycle with RIDE COMMAND to use for demonstrations such as the one at CAV Camp.
"We have a critical shortage of technicians, and the technologies we are deploying will require an upskilled workforce, not just in Minnesota, but globally," said Weldon. "We can't fix this overnight, but we can plant seed with camps like this. We are 'all in' with any opportunity to show students the incredible potential of a great career in technology!"