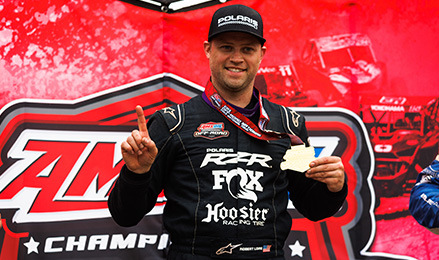 Engineer by day. Pro racer by night.
Polaris engineer's winning combination of work and play.
As a full-time Polaris RZR engineer who moonlights as a professional UTV racer, Robert L. puts his engineering work through the ultimate test in the world of high-octane off-road racing. On July 16, he took first place in the sixth round of the Pro Turbo race, beating out other top racers for the win at the ERX Motor Park in Elk River, MN, for an unforgettable win – just 20 miles from the Polaris global headquarters.
"A win at any race is always exciting," says Robert. "But to do it at your home track, with many family members, friends, and co-workers takes it to another level. I think this is what helped give me that extra little push to solidify the win."
Pro Turbo is the top side-by-side class in short-course racing and it's rare that a privateer racer wins in this class. In an impressive display of skill and determination, Robert was able to hold off relentless attacks from strong competitors and crossed the finish line in the top spot in his Polaris RZR Pro XP with a 925cc Prostar turbo engine, custom race chassis, and a high-capacity cooling system.
"After a caution flag early in the race, Robert restarted the race on the front row alongside arguably the best UTV racer on in the world," says Brett C., manager, ORV Racing at Polaris. "There is no question that Robert is talented enough to win races, but this is the highest level and he would have to be perfect to pull this off. He did just that. Drove the race of his life and truly pulled it out for Polaris at our home track. I don't think I've been that excited for a race win in a long time."
"It was an amazing hand-wringer final to watch," says Brandon G., director of Recreational Engineering for RZR, GENERAL and Youth vehicles at Polaris, who was on hand to see Robert race. "Robert drove about as perfect as he ever has and right when it was needed as we didn't have any other contenders left vying for the podium. His vehicle was fast – and it all came together for him right when we needed it. I was up out of my seat and cheering him on, so excited to see him succeed under such pressure."
Engineering for the win

Brandon shares that Robert is a creative engineer and pays attention to every detail on his race car, combining his learnings from work and from racing in ways that make both applications better. He will bring his race RZR vehicle to the office to show colleagues how the team has solved challenges, and to share those learnings across to other engineers in ORV.
"Being able to race, market, and showcase the Polaris brand I work for is a very special feeling to me," says Robert. "There is so much passion at Polaris and in the engineering team around the product we work on every day."
Robert spends his days fine-tuning the innovative performance of the RZR lineup and assisted with some of the design on a few of the intake components included on his vehicle. The detail and precision with which he and the engineering teams work results in unmatched vehicle performance that delivers RZR enthusiasts with an ultimate riding experience, something Robert knows firsthand as a racer.
In his role as a senior systems engineer, Robert works on load requirements for suspension and chassis systems. Racing in the Pro Turbo class, he must maximize power and reduce vehicle weight in order to make his RZR as competitive as possible – meaning he can leverage his knowledge in intake and exhaust to make usable power as well as suspension and chassis systems to make them as competitive as possible. Not every racer that has this unique perspective.
"He's gaining a better understanding of how our vehicles perform in extreme conditions," says Brett. "But, in racing, you also have to try new things to be successful. Whether it's in suspension tuning, clutch setup, height and track width, Robert has the ability to understand what works best, and with this, he's able to do his job even better, which results in a better product."
"Racing has been part of the Polaris heritage and culture from the beginning of the company," says Brandon. "It started with snowmobiles and continues on with RZR today. We have a culture here that encourages and supports our employees to go and do great things like Robert did."