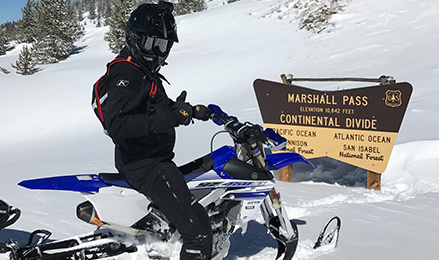 The People Behind POLARIS: Employee Spotlight Series – April 2022
The People Behind POLARIS: Employee Spotlight Series – April 2022
A growing number of families have been seeking new ways to THINK OUTSIDE and enjoy time together outdoors. Many of them have turned to Polaris Adventures as a way to experience the places and fun that powersports can provide, without the cost and long-term commitment of ownership. Polaris Adventures launched in 2017 and has grown to a national network of more than 175 destinations, helping even more people experience powersports and create safe, memorable adventures. Polaris Adventures provides worry-free ride and drive options in state-of-the-art Polaris vehicles for all skill levels.
The explosive growth and popularity of Polaris Adventures inspired Polaris Adventures Select, the first membership program in the powersports industry. Polaris Adventures Select is perfect for riders who want flexible riding options and access to a variety of vehicles. Given the recent expansion of Adventures Select into the Midwest market, we were excited to touch base with a Polaris employee who has been deeply involved in these programs.
Meet Gray R
Tell us about your career path that led to you being part of a team that introduced the ground-breaking concept of Polaris Adventures and Polaris Adventures Select.
Gray: I've been with Polaris for 11 years in a variety of roles and areas of the business, from information systems development to digital marketing to process and program management. I've been involved in a number of exciting projects, including helping develop RIDE COMMAND, a digital connectivity and information system that enhances riders' experience; integrating Timbersled into our line-up, working with our off-road vehicles business to design the future of our manufacturing and supply chain processes, and now being part of the team that launched Polaris Adventures and subsequently the Adventures Select membership program.
That really is a wide variety of roles and projects! Has your career path been intentional or how did your career evolution help you grow into your current role as the senior director of Polaris Adventures?
Gray: While it may seem like a winding career path, Polaris has really enabled me to follow where my interests and curiosity take me. Polaris has experienced incredible growth during my time here, which has provided opportunities to be a part of some leading innovation within our industry. The milestone events of my personal career growth have coincided with some of the innovative products and programs that have helped make the company what it is today.
Tell us about your latest passion, Polaris Adventures and Polaris Adventures Select.
Gray: What I love about Polaris Adventures and why it's interesting to me is that it makes the unique powersports experiences that I've had the opportunity to enjoy as an employee available to anybody. That is the essence of why we created the program. It's really rewarding to see people get out and experience outdoor adventures in ways that they maybe never thought they could. Now with Polaris Adventures Select, we can make those occasional powersports adventures more of a recurring lifestyle experience for a broader range of riders. The membership platform is a transformational approach to making powersports accessible and affordable, and a whole new exciting opportunity for Polaris to connect with the next generation of riders.
Everyone can find something in the Polaris Adventures program that turns their crank, from boating, to off-roading, to cruising the back roads on a motorcycle or Slingshot. There are so many cool experiences that we can now make available to all kinds of people and where they're at in life.
Did you grow up loving powersports?
Gray: I rode dirt bikes a little bit as a kid, but I really didn't fall in love powersports until after I joined Polaris.
We just launched Polaris Adventures Select in the Midwest. Who is signing up for memberships?
Gray: We get a wide variety of members coming from different points in life, but in general, it's people who have the time and interest in doing something cool outdoors. They want to get outside, and they're interested in experiencing powersports, but they may not be sure yet what their thing is. Polaris Adventures provides an easy way to explore all that the world has to offer; you don't need to pick just one place or type of experience.
What's your favorite Polaris Adventure, and your favorite way to THINK OUTSIDE?
Gray: Well that's like picking a favorite child, but one experience that stands out in my memory is off-roading in a RZR out of Silverton, Colorado. The view and experience riding at 13,000 feet, offering vistas that you won't ever experience in a car, or even hiking, is indescribable! My favorite way to THINK OUTSIDE on a regular basis with my family is escaping to our cabin in northern Minnesota, enjoying time together creating experiences on our Polaris vehicles.