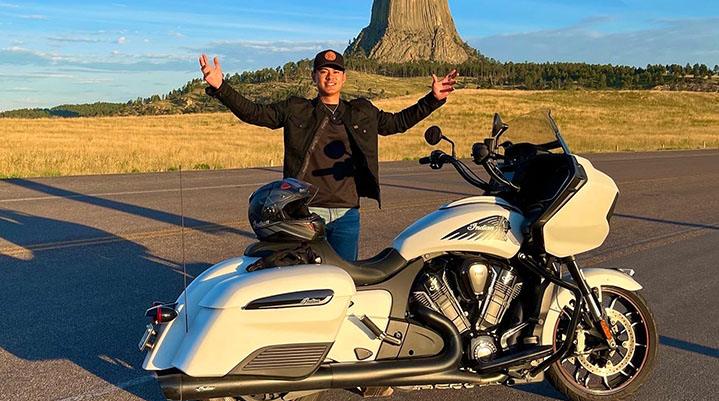 The People Behind Polaris - January Employee Spotlight: Victor T.
>
A member of the Polaris Sales and Marketing Leadership Development (SMLDP) program and self-proclaimed motorhead, Victor T. joined Polaris in 2021 with a passion for riding and relationship building.
The SMLDP program allows college graduates to experience several areas of the company over a two-year span. The program was created to blend aspects of both sales and marketing and split January 2023 to enable increased depth of training and development within either sales or marketing. We sat down with Victor to talk about his experience as a Sales and Marketing Leadership Development Program employee.
With a natural knack for selling, Victor craved the opportunity to expand his network and work directly with dealers. After one marketing and one product rotation, Victor joined the On-Road Global Business Unit supporting sales and channel improvement for Slingshot and Indian Motorcycle, directly aligned to his passion for dealer-facing sales. While the SMLDP program doesn't require a field sales rotation, it was an area of the company that Victor had a great interest in. For his fourth rotation, he worked with his network and the Early Talent team to navigate this placement and manage a mini-district of his own. He started his role earlier this month, reporting to the North Central territory out of Wichita, Kansas.
Tell us a little about your role in field sales.
I will work as a trusted advisor with dealerships offering our off road products, everything from RZR to Sportsman as well as be their line of communication from corporate. Essentially, the work I do mirrors that of a District Retail Manager (DRM), but on a smaller scale. Duties include managing the relationship and ensuring that inventory is current, assisting dealers with their marketing efforts to align with our vision to reach more customers, and partnering with the dealers as a trusted advisor to improve processes and profitability. Where traditional DRMs cover a larger amount of dealers, the amount I am responsible for is smaller. I plan to cover additional dealers this spring to help expand my knowledge and assist the team.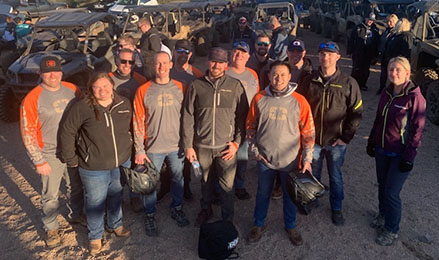 What's unique about your position?
The opportunity to "choose my own adventure" speaks to the value of entrepreneurship I have encountered at Polaris. A field rotation was not required of me, but the desire to expand my product knowledge and industry relationships drove this opportunity. I have incredible team members in my corner who have helped me navigate this uncharted territory and we're building the plane as we fly, but the joy is in the journey and I am thankful for everyone who supported me.
Tell us about an exciting project or event you took part in.
In my third rotation with Indian Motorcycles, I was honored to attend the Sturgis motorcycle rally in South Dakota. I was tasked with leading riders and fans to the demo area to allow them to experience the thrill of an Indian Motorcycle. Interacting with customers and hearing their stories from the road, how long they had been riding, where they came from, and why they love the brand, was amazing.
As far as exciting rides, I have had my fair share of thrilling moments on Polaris products. One standout memory was riding 450 miles on an Indian Scout Rogue through the Black Hills of South Dakota and to Devils Tower in Wyoming. Surrounded by the incredible scenery of Needles Highway and a tight-knit community of bike enthusiasts, the entire trip was a dream come true.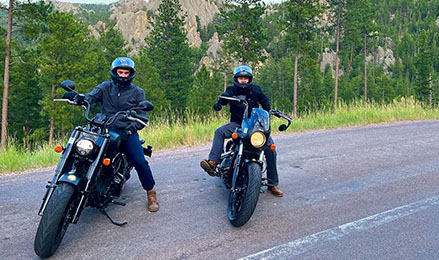 What are you most looking forward to becoming part of the Polaris sales network?
I deeply respect the dealer sales network and look forward to learning and growing from everyone I meet. Additionally, I'm thrilled to take on a dealer-facing role, building rapport and working directly with longstanding partners to bring our awesome products to more customers.
What does THINK OUTSIDE mean to you?
There are places only our products can take you, and I feel lucky to work with a brand that delivers such incredible experiences for customers. The people of Polaris share a common appreciation for the outdoors, and a goal of sharing the fun with others. THINK OUTSIDE means thinking outside the box, pushing myself creatively, and finding ways to streamline and innovate the work we do.
I've built such a tight community with fellow DP's across the company, creating genuine friendships and memories that will last a lifetime. To live the rider experience day in and day out has been a gift. I can't imagine doing anything else.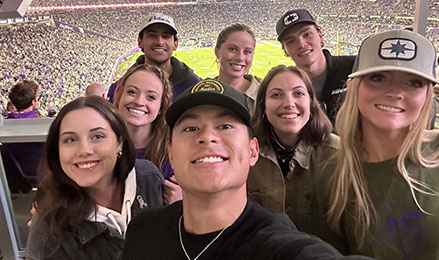 Interested in joining Team Polaris? Check out opportunities with our Sales and Marketing teams and other open roles at Polaris by visiting www.polaris.com/careers.
About Polaris
As the global leader in powersports, Polaris Inc. (NYSE: PII) pioneers product breakthroughs and enriching experiences and services that have invited people to discover the joy of being outdoors since our founding in 1954. Polaris' high-quality product line-up includes the Polaris RANGER®, RZR® and Polaris GENERAL™ side-by-side off-road vehicles; Sportsman® all-terrain off-road vehicles; military and commercial off-road vehicles; snowmobiles; Indian Motorcycle® mid-size and heavyweight motorcycles; Slingshot® moto-roadsters; Aixam quadricycles; Goupil electric vehicles; and pontoon and deck boats, including industry-leading Bennington pontoons. Polaris enhances the riding experience with a robust portfolio of parts, garments, and accessories. Proudly headquartered in Minnesota, Polaris serves more than 100 countries across the globe. www.polaris.com