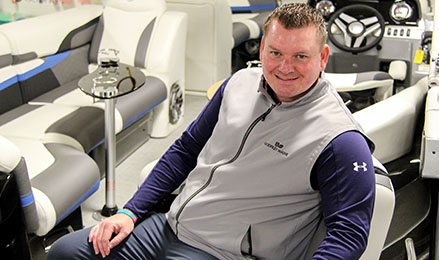 The People Behind Polaris – Employee Spotlight: Jeremy R.
>
Polaris welcomed the Bennington, Godfrey, and Hurricane marine brands to its powersports product portfolio in 2018, providing consumers with one more reason to THINK OUTSIDE.
Between November and April, hundreds of thousands of outdoor enthusiasts venture through boat shows across the country to explore boating and get an up-close look at the latest boats and marine products. We decided to get an inside look at our Marine business and the boat show experience from the perspective of Jeremy R., inside sales manager for Godfrey and Hurricane brands, just back from attending the Miami International Boat Show.
Tell us a little about yourself and your role with the company, Jeremy.
I've been part of our Marine business for more than 18 years. In my current role as the inside sales manager for Godfrey pontoon boats and Hurricane deck boats, I work with our regional sales managers (RSMs) and dealers to provide information and develop training programs for new products and features, as well as production and delivery insights. I enjoy using my experience in different roles with the company to help bring to life our products' history, construction, quality, and innovation to convey to consumers "Why Godfrey" and "Why Hurricane" are two of the leading brands in their market segments. All of these skills enable me to bring feedback and learnings from our sales team, dealers, and customers back to the design and production teams to incorporate into our product development roadmap.
Speaking of your history with the company, tell us about the career path that led you to your current role.
I've been with Godfrey and Hurricane most of my career, starting when it was family owned, then as part of a larger organization when Bennington acquired Godfrey and Hurricane, and now as part of Polaris. With each change I've had the opportunity to help the company grow, and advance in my career. I've been with production, engineering, and inside sales. That cross-functional experience is valuable in my current role, as I help develop and train our sales teams and dealers, along with day-to-day operations, and cross functional work with product development and engineering.
What do you find most exciting about your position?
The whole purpose of my current role is helping to take our brand to the next level. Being part of Polaris has been fantastic, with all the personnel and departments engaging with Marine. Most recently, I've been involved with our CSI award program [Marine Industry's Customer Satisfaction Index Awards], which starts with dealer development programs that impact our credibility for personally caring about dealers and consumers and delivering the best product and customer experience. It was my honor to accept the CSI Award for Godfrey at the Miami Boat Show.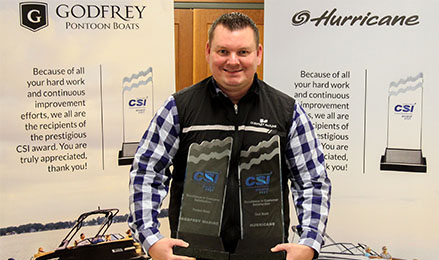 Congratulations! It sounds like the Miami Boat Show was very exciting! Tell us more about the boat shows.
Our Marine businesses will attend more than 100 boat shows, mostly from January through March, so it is a crazy time. I will personally attend 13 or 14 shows this year. I work with RSMs and dealers to make sure they get the boat models they want to show, highlight new products and features, and plan consumer engagement at the shows. Sometimes shows include an award component, such as the CSI award in Miami. Another example is the Innovation Award we were up for with our Mighty G pontoon at the Minneapolis Boat Show. This gave me the opportunity to present the product to judges and highlight the Mighty G, which can be powered by electric or gas engines, to the industry.
OK, we just have to ask - how do they get the boats into those convention centers?
That is a fascinating challenge! The logistics of planning and shipping boats to so many shows are truly impressive. However, once we get the boats to the show location, it's usually the experienced staff and dealers at the event site who receive the boats into the facility and place them in our display area. I'll leave their trade secrets for them to reveal!
What does THINK OUTSIDE mean to you?
I live on the river, so I get to enjoy the boating lifestyle personally, and it's an amazing opportunity to engage on the water with consumers, family, and friends with all brands of boats. Everyone is a lot happier being outside, and it's our passion to truly help families get out on the water to create lasting memories. The great part of our Marine business is that we have so many floor plans, models, and options that we can find the right boat for each customer based on their use, budget, and expectations to help them start making those memories as soon as possible. After several years, they often come back to buy another boat, based on that experience, to continue making memories.
Interested in joining Team Polaris? Check out the opportunities:
www.godfreypontoonboats.com/en-us/careers/
www.hurricaneboats.com/en-us/godfrey-marine-careers/