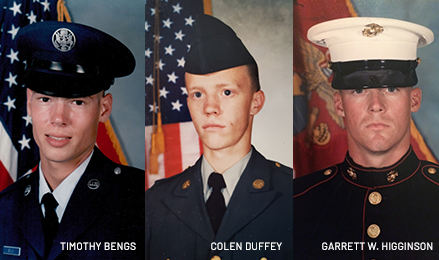 Honoring Our Veterans: Polaris Celebrates Veterans Day
>
Proud to serve – a phrase that carries deep significance for members of the military. To carry the responsibility of protecting a country is something altogether remarkable.
This Veterans Day, Polaris is proud to shine the light on some of the Veterans who have served in the United States Armed Forces and now work throughout our company ranks. We salute them for their bravery, sacrifice and willingness to serve our country. Today, as we recognize some of the many Veterans who work at Polaris, we say to all, thank you.
Timothy Bengs
U.S. Air Force
Indian Motorcycle, Midsize Assembly Supervisor
Each day, when Timothy Bengs reports to work in Spirit Lake he stops for just a moment just outside the building and looks skyward. Three flags fly in front of this Polaris location: the Iowa state flag, the United States flag and the POW MIA flag. For Bengs, this pause beneath the flags allows for a silent salute to the memory of the service men and women he gave a final salute to during ramp ceremonies while stationed in Afghanistan. "They paid an ultimate, and final cost for our freedom," says Bengs, a midsize assembly supervisor for Indian Motorcycle, in Spirit Lake, Iowa. "As a Veteran, I will forever carry their memory with me."
Bengs spent 22.5 years in the U.S. Air Force, retiring in 2015 with the rank of Senior Master Sergeant (SMSgt). With multiple assignments and two deployments at Riyadh Air Base, Saudi Arabia (1995) and Kandahar Airfield, Afghanistan (2009), Bengs served as a maintenance management analyst, working with aircraft maintenance data. During his time in the military, he also pursued multiple degrees, including a Bachelor of Arts in Business Administration and an Associate's in Technical Management.
Coincidentally, Bengs' official retirement date was April 1, 2015; his start date with Polaris was April 5, 2015. "I'm thoroughly impressed with the number of Veterans I work with at Polaris," he says, recalling how it was Polaris' military recruiter who helped him secure the job. "I've worked with retired Naval officers, guys who were in the Marines, the Army – from supervisory positions to jobs on the manufacturing lines. It's just really neat to see how many Veterans work here."
Of his time in the military, Bengs says it was important for him to be a part of something larger than himself, to give back to our country, "I am proud to have served."
Colen Duffey
4 Wheel Parts, Store Manager
To know at the age of 17 that military service was something so important to who you are that you ask your parents to help you enlist early, is one thing. To parlay that commitment, training and the many lessons learned in the U.S. Army into a career, is another. But for Colen Duffey, store manager of the 4 Wheel Parts location in Salt Lake City, the decision he made when he joined the military at that young age represents something much more, "Joining the Army was the best thing I ever did for myself. My military time served gave me the tools and determination to be what and who I am today."
Duffey carries with him the commitment to be the best in all that you do, and the notion that quitting is never an option – that you have to always find a way to win no matter your situation. These creeds, he says, were instilled in him while in the Army and that he will forever be proud of his service, and that of the many other service members who make the same commitment when joining the military. "To have what it takes to make it through training, to pass the tests and to make it through, that's really something to be proud of," he says. "I have a deep respect for all that have served and are serving."
Working as a light-wheeled vehicle mechanic, Duffey was a Designated 63B and rose to the rank of Specialist through his military career. "I like to say that I've been in the automotive industry since 1992," he says. With Desert Storm ending as Duffey was beginning his service, his deployments remained stateside, including Fort Jackson in South Carolina, Fort Lewis in Washington and the Tooele Army Depot in Utah.
Enlisted for eight years, Duffey left the Army and immediately began his civilian career in the off-road industry as mechanic. Soon thereafter, when 4 Wheel Parts opened in Utah, he joined the team – and today, 20 years later, he remains with the company. "At Polaris, the spirit of winning the right way is similar to the Army's," he says. "The camaraderie, the teamwork, the commitment to always look for ways to improve and get better – that goes beyond just a job, it's a way of life."
He also attributes his success for two decades with one company in large part to the lessons he learned while serving his country. "My military service gave me the tools and determination to be what and who I am today. Being able to shape my off-road career from the skills I received in the Army has been a blessing for me."
Garrett W. Higginson
Marine Corps
4 Wheel Parts, Regional Manager
For Garrett Higginson, the Florida regional manager with 4 Wheel Parts and a U.S. Marine Corps Veteran with tours in Okinawa, Thailand and Iraq, serving in the military is a family legacy that he shares with his grandfathers, father and now his oldest son. But, Higginson says, it wasn't just the sense of legacy that pulled him into service, rather a deep feeling of patriotism and a duty to serve his country. "As a Veteran, service to my country never ends," he says. "Having the honor to serve is something I'm very proud of in my life."
Of his 10 years in the military, Higginson was deployed overseas for six – mostly in top-level security that had him involved in Operation Cobra Gold, a six-month deployment in 1998 that was a joint training operation with the Thai Marines at static locations throughout Thailand. Specifically, he calls the Pattaya Beach deployment his best and worst military experience, explaining that the time at the military port.
He was also part of a convoy security detail during combat missions in Iraq during 2003-2004. "We drove up and down, and in and out of, a majority of Iraq during that time," he says. "We covered pretty much all of it while providing security."
In looking back to his time in the military, he'll talk about the honor that comes with being a Marine – and the brotherhood he still finds with fellow Marines, even when he unexpectedly meets one in a 4 Wheel Parts store, "We're a band of brothers," he explains. "We share a little something special among us Marines. There's an unwritten trust there, it's a code that never breaks."
After his time in Iraq, he separated from active duty in 2004, and found his way to 4 Wheel Parts where has worked for nearly 17 years; combine that with his 10 in the service and he remarks on how the two have comprised his adult life and finds significance in the manner in which the Polaris culture harkens to that of the Marine Corps. "There's a sense of patriotism throughout the company," he says. "I see it in the emails from Scott Wine and others in leadership. I see it in the way we do the right things and how we're methodical in getting things done. I feel a sense of patriotism from the top down."