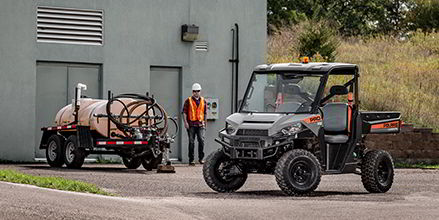 Designing for the Customer in Huntsville
>
Polaris offers an array of products designed to help our customers work and play, but did you know that we also have an exclusive lineup perfectly crafted to support commercial and government needs? Polaris both designs and customizes (or as we call it "upfits") our vehicles to meet the specific needs and requirements for the customer.
As the business has continued to grow, it quickly became clear, the team needed additional space to meet the needs of our customers. The solution: a brand-new facility designed specifically for our upfit services. Introducing, the new Polaris Commercial and Government Upfit Center.
The facility opened in May just five miles from our main manufacturing facility in Huntsville, Alabama and combines a 275,000 square foot state-of-the-art assembly facility with a talented team of technicians to offer Polaris Commercial and Government customers an industry-leading delivery experience. Polaris' Vice President of Commercial and Government Keith Simon recently chatted with us about the new facility and how it is elevates his business' ability to focus on the customer.
What was the need for the new location? We used to have a section of Huntsville to do up-fits, but there was no room to grow as our Commercial and Government business has grown. The new Upfit Center will help us to expand our upfit capabilities. As a bonus, the new location is less than five miles from the Polaris Huntsville manufacturing facility.
Where are most of the vehicles at the Upfit Center coming from? Most of the vehicles at the Upfit Center come from Polaris' main Huntsville facility, which is why keeping the facilities close was so important. Out of the current vehicles, 80 to 90 percent are RANGERS and ProXD and are coming from Huntsville.
How was the upfitting managed previously? We had a very small dedicated footprint inside the Huntsville manufacturing facility, and we were also shipping to third-party locations and paying for third-party labor. Thanks to this new Upfit Center, we can significantly cut down shipments as we have the needed space to grow the Polaris team to do the work.
We currently have 32 employees, which includes six new positions. The rest of the positions were moved over from our Huntsville location. The Upfit Center has a capacity for approximately 60 employees, as we designated the space to accommodate business growth over the next several years.
What are the most common upfits? Doors, windshields, heaters, strobe lights, and beacons.
Describe the facility design process. We designed the space to maximize productivity and efficiency. The new space includes dedicated work bays, multi-station upfit line, vehicle staging, quality and warehouse space. Our customers are also unique; they could be placing an order for one very customized vehicle or for multiple vehicles. The center is set-up with a mini assembly line for bulk orders and bigger customers, but also set up with space for technicians who are working on smaller, more customized orders.
What are the benefits to the Upfit Center? The Upfit Center has allowed for improved focus on commercial, industrial and government customers and their specific needs through in-house accessory installation and customization, as well as an enhanced post-production quality process.