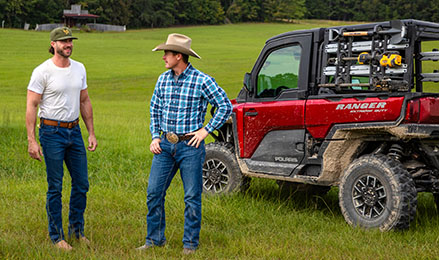 Country Music Star Riley Green And Pro Rodeo Star Tyson Durfey Shine Light On Cowboy Code Values During Polaris Off Road's Short Series
"Cowboy Code" Reveals How Hard Work, A Connection to the Land, and Sense of Community Are Universal Attributes of the Lifestyle
MINNEAPOLIS, Minn. (October 23, 2023) – Polaris, the world leader in powersports and off-road innovation, releases the newest edition of "Cowboy Code," a two-part series featuring country music star Riley Green alongside Team Polaris rodeo champion Tyson Durfey. The series highlights the two individuals with different backgrounds bonding over their shared understanding of "Cowboy Code," including hard work, respect for community, and being a steward of the land. As the No. 1 utility side-by-side brand, Polaris RANGER understands the values and work ethic of those who are tackling some of the toughest jobs.
Filmed at Green's multi-generational property in his hometown of Jacksonville, Alabama, the pair learn about each other's backgrounds, discuss the similarities and differences of their jobs, and how the "Cowboy Code" is a common theme in both of their lives. To help share his story, Green takes Tyson to several memorable landmarks on the vast property quickly and comfortably in a Polaris RANGER. Later in the series, viewers can see how Green and Durfey work together to plow and plant a food plot for deer season and with the help from his Polaris RANGER, they are able to complete the tasks and still have time for fun at the end of the day. Durfey and Green infuse personal experiences into the series, paired with a shared love for the outdoors to highlight how they may have different passions, but embody the same sense of the "Code."
"The 'Cowboy Code' to me is about eating, sleeping, and breathing the ethics that every small town in America is made of and I can honestly tell you the Green Family embodies that," said Durfey. "I'm honored to be able to work with Polaris to bring another short series of 'Cowboy Code'."
"I'm excited to be working with Polaris on its 'Cowboy Code' series because it's a brand that I rely on to maintain my family's farm," said Green. "Polaris leads the industry in developing off-road vehicles to help those who take care of land and contribute to something bigger than ourselves. Understanding hard work, the connection with the land and the sense of community is something Tyson and I spent a lot of time discussing during the series."
To watch the "Cowboy Code" Series featuring Tyson Durfey and Riley Green, head over to Polaris.com/CowboyCode to watch the initial release and the final episode on October 25th at 11 AM CT.
To learn more about Polaris Off Road and "Cowboy Code," please visit Polaris.com/CowboyCode or join the conversation and follow on Facebooksm, Instagramsm, YouTubesm, and Xsm.
About Polaris
As the global leader in powersports, Polaris Inc. (NYSE: PII) pioneers product breakthroughs and enriching experiences and services that have invited people to discover the joy of being outdoors since our founding in 1954. Polaris' high-quality product line-up includes the Polaris RANGER®, RZR® and Polaris GENERAL™ side-by-side off-road vehicles; Sportsman® all-terrain off-road vehicles; military and commercial off-road vehicles; snowmobiles; Indian Motorcycle® mid-size and heavyweight motorcycles; Slingshot® moto-roadsters; Aixam quadricycles; Goupil electric vehicles; and pontoon and deck boats, including industry-leading Bennington pontoons. Polaris enhances the riding experience with a robust portfolio of parts, garments, and accessories. Proudly headquartered in Minnesota, Polaris serves more than 100 countries across the globe. www.polaris.com
About Riley Green:
Riley Green has been compelling Country music fans to raise a drink, shed a tear, and, above all, celebrate where they are from, since first releasing his self-titled EP in 2018. His songs like the No. 1 PLATINUM hit "There Was This Girl," the 2X-PLATINUM-certified heart-tugger "I Wish Grandpas Never Died" (which he performed live at the 55th ACM Awards), and his chart-topping collab with Thomas Rhett, "Half of Me," have made Riley synonymous with what Country music does best: making listeners feel something with his no-gimmick, relatable writing and classic feel.
An avid sports fan, former athlete (Jacksonville State University quarterback) and outdoorsman, Riley is riding a wave of success after being named the Academy of Country Music's 2020 New Male Artist of the Year, a former MusicRow Breakout Artist of the Year, a CMT "Listen Up Artist," and one of CRS's 2020 New Faces. Now playing to an average of 65,000 fans each night serving as direct support for Morgan Wallen and Luke Combs this year, Green headlined the Rock The South festival and is selling out his own headlining shows. Combs, joins Riley on his current Top 25-and-climbing single "Different 'Round Here (Ft. Luke Combs)," the title track to Riley's 2019 debut album that he re-recorded with Combs after seeing how fans connected to it.
His new album Ain't My Last Rodeo, produced by Dann Huff, is more of the signature Riley Green fans have come to know and love from the good ol' boy who still lives in his hometown of Jacksonville, AL. The project, heavily influenced by the rural, small town and slower way of life at home and time spent with his family, the new project, is available now via BMLG Records. See tour dates and learn more at rileygreenmusic.com.