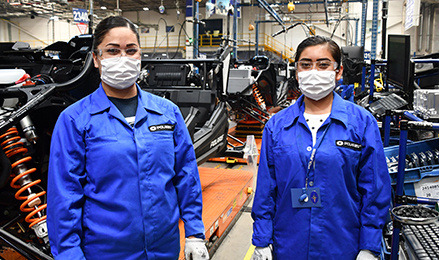 Celebrating Manufacturing Month at Polaris
October is recognized as National Manufacturing Month. To help celebrate the industry and promote careers within manufacturing Polaris has again partnered with the National Association of Manufacturers (NAM) as an official sponsor of National Manufacturing Day 2021 – Friday, October 1. Held annually on the first Friday of October, MFG Day is a flagship initiative of the Manufacturing Institute, which serves as the workforce development and education partner NAM.
With more than 15,000 employees globally, many those working across our 20 manufacturing facilities Polaris is proud to join thousands of companies and educational institutions around the nation in celebrating and showcasing modern manufacturing and career opportunities made possible by the manufacturing industry.
From our first plant in Roseau, Minnesota to Huntsville, Alabama to Anaheim, California to the newest plant to join the Polaris family in Monticello, Minnesota – we have 13 U.S. manufacturing facilities that serve as the workplace for7,000+ skilled employees. It is the dedication and drive of those men and women who walk through our doors daily that help enable Polaris to create products that allow customers to THINK OUTSIDE.
Throughout October, we invite you to follow along as we look to highlight the industry and help promote manufacturing jobs while also recognizing the commitment of our Polaris team.
First up, take an inside look at our roots by taking a virtual tour of our Roseau facility developed in partnership with NAM in 2020.