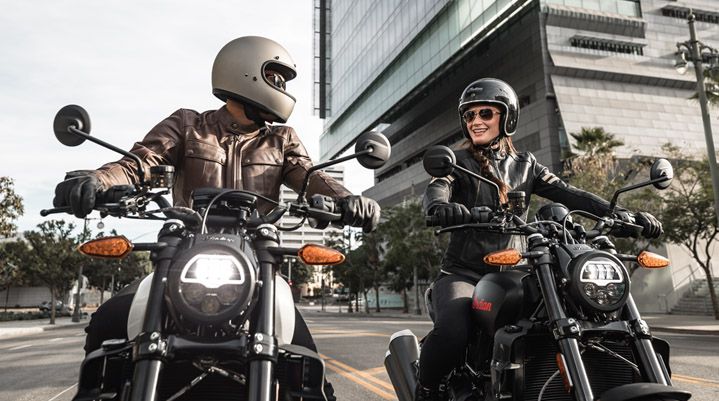 Best Practices for a Safe Ride
Part III: On Road
Polaris is passionate about helping people experience the outdoors. Whether using a RANGER to complete a task or taking a sunset cruise on a Bennington Pontoon, the highest priority should always be safety. As a part of Motorsports Awareness Month, we want to take the opportunity to review a few of the fundamentals of safe and responsible riding across every terrain.
For Part III of our look into safer and responsible riding across terrains we are heading to the open roads. Whether on two wheels or three taking the proper safety measures will help you enjoy the ride.


Before the Ride
Learn from the Experts: There are several industry organizations that serve as great resources for information, we encourage all riders to familiarize themselves with such organizations and review the resources available. A few of note include:
Complete a Training Course: A reminder to all – especially new riders – that the best place to begin when learning how to operate and ride a motorcycle or Polaris Slingshot is to complete a reputable training course. Find one that is right for you at MSF-USA.org including options for 3-wheel motorcycle rider courses.

Polaris also created safety videos and articles to help get you acquainted with the basics: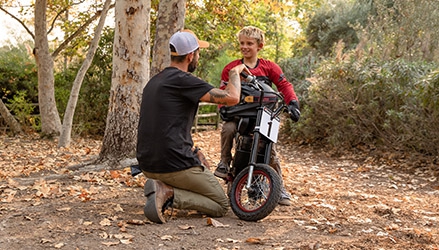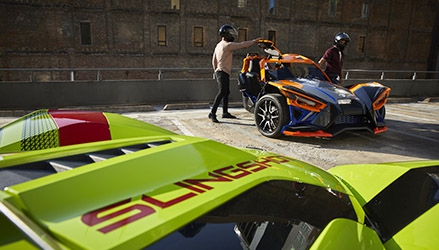 Consult your Owner's Manual: It is best practice to review the owner's manual before you ride to help you understand how to safely operate your motorcycle, Slingshot or youth electric bike. The owner's manual will also provide guidance around age requirements for both operators and passengers.
Inspect your Bike: No matter how seasoned of a rider you are, always thoroughly inspect your motorcycle or Slingshot before each ride. Pre-ride inspections can reveal malfunctioning or damaged vehicle components, low fluids, and other issues that could get in the way of your ride.

Check out this pre-ride checklist from the Motorcycle Safety Foundation for additional tips. For detailed instructions on pre-ride inspections for your specific model visit the Indian Motorcycle Help Center and search your model name. For example: Challenger Pre-ride Inspection. Or find additional information and owner's resources for Slingshot and Indian Motorcycle.
Gear Up: Make sure you have all the necessary gear for your ride. For motorcycles always wear protective gear such as DOT-approved helmet, eye protection, gloves, over-the-ankle boots, jackets, pants and/or riding suit. Protective apparel designed for motorcycling will provide both comfort and protection. For Slingshot, it is recommended both riders and passengers wear a full-faced DOT-approved helmets. Again, the owner's manuals serve as a great resource for protective gear that should always be worn.

Also, we encourage you to check your state laws in advance for any specific protective gear requirements.

Helpful resources:

Plan Your Ride: Headed north, south, east or west? It's smart to have a plan in place and review your route before you ride and don't forget to check the weather forecast. Riding with others? Head to MSF-USA.org review its guide to group riding.

Additionally, Polaris Ride Command is a helpful tool that allows users to plan ride routes, track rides, and rate and share routes with other users. Ride Command is available online, as a mobile app, and is accessible on select models.
During the Ride
Wear Protective Gear: Just a reminder to always wear the proper safety gear. See a full list at MSF-USA.org.
Obey Local Laws & Regulations: Always review and follow the motorcycle and/or autocycle rules and regulations for your given location. See the State-by-State Guide from the Motorcycle Legal Foundation for an overview of state laws and rules.

Head to the Slingshot website for an overview of license requirements by state. However, a few key items to keep in mind for Slingshot:

Always follow traffic laws. Always wear a seatbelt

Never use a child seat in a Slingshot
Know your Route: Always ride on safe surfaces. Riding off-road or on non-paved surfaces can make handling and staying in control of your motorcycle or Slingshot more difficult.
Ride to your level: Always ride within your comfort zone to stay in control of your motorcycle or Slingshot. Never operate under the influence of drugs or alcohol – bottles and throttles don't mix.

Looking to advance your riding skills? Check out a safety course, such as the course options at MSF-USA.org including options for 3-wheel motorcycle rider courses.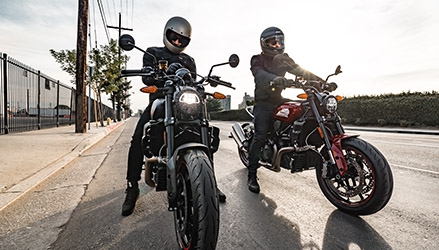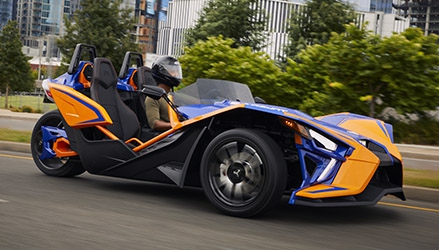 Beyond the Ride
Maintain your Bike: Properly storing and maintaining your motorcycle or Slingshot when not riding or during the off season will help keep it in good condition and lead to a more enjoyable, safer riding experience in the future.

Helpful Resources: