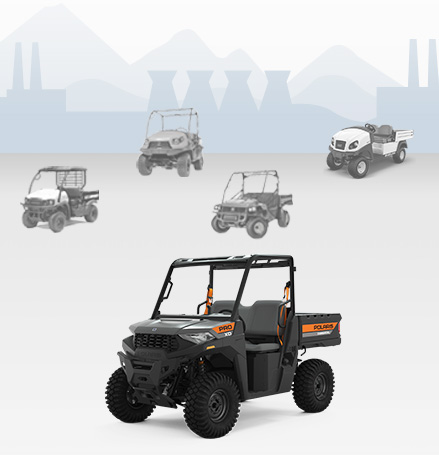 Pro XD Mid-Size Gas vs. Top Competitors
The Polaris Pro XD is a commercial utility task vehicle (UTV) built for durability, serviceability and safety on the jobsite. Download the comparison chart below for an in-depth understanding of individual specifications to show how the Polaris Pro XD stacks up to the competition.
Safety Features - The Polaris Pro XD is engineered to provide more industry-leading safety and worksite features than the competition by making orange seat belts and decals, backup alarm and horn, and speed limiting options for job site compliance standard.
Durability - Pro XD has industry-leading box cargo capacity, towing capacity, and payload capacity, meaning it can haul and tow more than the competition. A heavy-duty driveline and 8-ply reinforced tires provide additional durability and longevity between service and parts replacement.
Serviceability - Downtime kills productivity. That's why Pro XDs are designed to withstand tough duty cycles and worksite usage. Up to 200-hour maintenance intervals means less in-field maintenance and reduced service costs.
All information has been obtained from publicly-available and reputable sources, including manufacturer websites and product manuals.