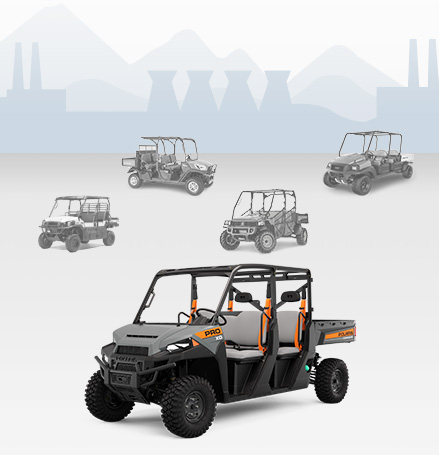 Pro XD Full-Size Diesel Crew vs. Top Competitors
The Polaris Pro XD is a commercial utility task vehicle (UTV) built for durability, serviceability and safety on the jobsite. Download the comparison chart below for an in-depth understanding of individual specifications to show how the Polaris Pro XD stacks up to the competition.
Safety Features - The Polaris Pro XD is engineered to provide more industry-leading safety and worksite features than the competition by making orange seat belts and decals, backup alarm and horn, and speed limiting options for jobsite compliance standard.
Durability - Pro XD has industry leading box cargo capacity, towing capacity, and payload capacity, meaning it can haul and tow more than the competition. A heavy-duty driveline and 8-ply reinforced tires provide additional durability and longevity between service and parts replacement.
Serviceability - Pro XD was the first utility vehicle to introduce 200-hour maintenance intervals. Pro XD provides the simplest daily maintenance checks with an easily accessible oil dipstick, air filter and air intake without the need to remove panels or lift the bed.
"The combination of Pro XD's durability and versatility, as well as less frequent and easier service checks, makes it the clear choice to keep driving our business forward."
- Mark Maldonado, Project Superintendent for Heritage Links
All information has been obtained from publicly-available and reputable sources, including manufacturer websites and product manuals.