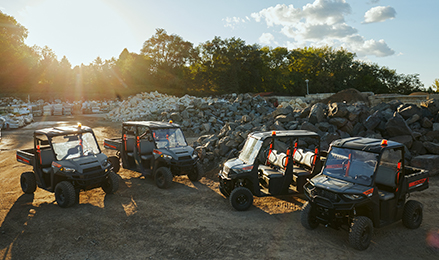 Polaris Commercial Named a Top Supplier by United Rentals
MINNEAPOLIS — March 16, 2022 — United Rentals, Inc. (NYSE: URI), the world's largest equipment rental company, has awarded Polaris Commercial honorable mention as a top supplier for 2021. The company determines its top suppliers each year based on qualitative and quantitative criteria that deliver superior value.
United Rentals offers the Polaris Pro XD commercial utility vehicle in its U.S. rental fleet, where its versatility serves customers across construction and industrial sectors. The Pro XD features safe onsite mobility, 2,075 pounds of payload capacity and 2,500 pounds of towing capacity, with the durability to withstand demanding daily use.
"We thank Polaris for their unwavering commitment to safety and innovation," said TJ Mahoney, vice president, supply chain, United Rentals. "Our suppliers are true partners to us in helping our customers succeed. In 2021, Polaris excelled at delivering strong product support and operational excellence in a pivotal year as our markets recovered."
"Polaris has been a proud partner of United Rentals since 2016, equipping jobsites with the industry-proven Pro XD," said Aaron Stegemann, vice president, commercial utility vehicles, Polaris. "We're thrilled to be honored as a top supplier. This award reflects our commitment to United Rentals and their customers in providing safe, productive UTV solutions, product expertise and training."
United Rentals offers approximately 4,300 classes of equipment for rent, sourced from a vast network of supplier and manufacturer relationships, including Polaris. Polaris Commercial works with United Rentals to provide Pro XD UTVs to United Rental locations across the U.S. for customers within the construction, utilities, government, landscaping and grounds maintenance industries.