Buying Guides
October 29, 2020
The Buyer's Guide to Snowmobiles
With all the options available, finding the best snowmobile for you can be both exciting and overwhelming. There are new technologies, purpose-built tracks and hundreds of add-ons and accessories to choose from. If you're in the market for a new sled, there are some key factors worth thinking through before purchasing a sled. Here are some tips for finding the perfect snowmobile for your riding style.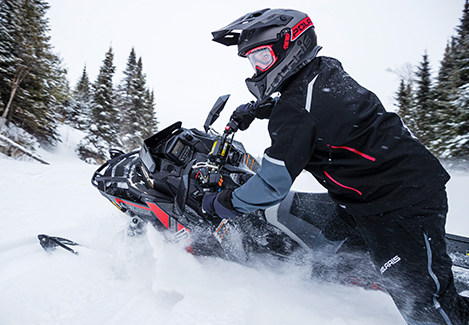 What are Different Types of Snowmobiles?
Snowmobiles have evolved into advanced winter machines to ride and work in all types of snow-covered terrain, and each snowmobile segment fulfills the demands of riders and the terrain where they ride. This guide defines the different types of snowmobiles and highlights their key features.
From 100 feet away, differences between types of snowmobiles might not be obvious. But if buyers look more closely at the track, seat, handlebars, skis and suspensions, they'll realize variations in how the components are designed.
For example, skis for Mountain snowmobiles are wide and short while Trail snowmobiles have skis that are narrower and longer – the differences provide optimal handling within each machine's respective use environment.
Each class of snowmobile fulfills the needs of its riders. This guide defines the different types of snowmobiles and highlights their key features.
Trail Snowmobiles are designed for use on groomed snowmobile trails where predictable handling, rider protection and a comfortable ride are especially important.
Mountain Snowmobiles are built to perform well in off-trail terrain and areas with deep snow conditions.
Crossover Snowmobiles class combine features of Trail snowmobiles and Mountain snowmobiles, making them versatile for on- and off-trail riding.
Widetrack Snowmobiles Built for the toughest tasks, ready to tow and haul passengers, gear and more.
Sport Utility Snowmobiles are often considered the SUVs of snowmobiling, made for work and play.
Entry Level & Beginner Snowmobiles are physically smaller, making them a fun and safe way to introduce new and young riders to the thrill of snowmobiling.
Youth Snowmobiles are designed to promote safe and fun riding for youth riders.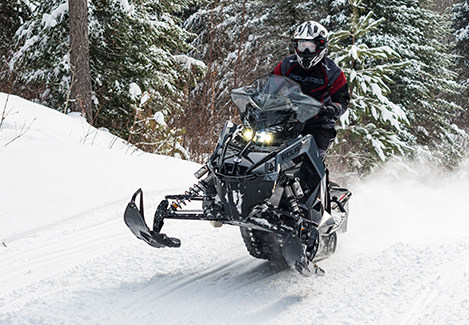 Trail Snowmobiles
Trail snowmobiles are the most common type of machine for over-the-snow travel thanks, in part, to the vast network of groomed trails that span across the North American Snowbelt – including Polaris' home state of Minnesota, plus Wisconsin, Michigan, New York, Ontario and more.
Trail-class snowmobiles provide predictable handling through turns, a smooth ride over bumps and protection from cold and wind that keeps riders warm and comfortable. These snowmobiles also usually include onboard storage for supplies that might be needed while on the trail, such as snacks and extra clothing.
The Polaris trail snowmobile lineup includes a broad selection of snowmobiles suited for riders of all skills and experience levels. From the premium Indy VR1 with the interactive 7S digital display and built-in Ride Command technology to the standard Indy models based on the proven Pro-Ride chassis, there's a Polaris snowmobile for every trail riding adventure seeker.
Key features include:
Shorter tracks with shorter lugs for better traction and handling on groomed trails
Trail friendly cockpit for a comfortable and controlled ride
Accessories such as passenger seats and onboard storage improves the experience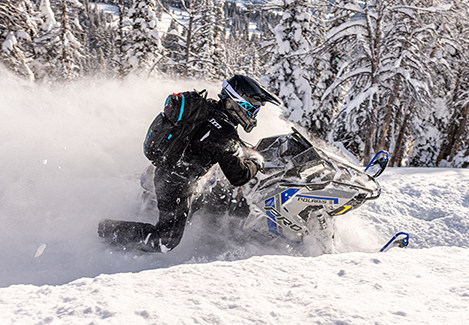 Mountain Snowmobiles
Western states like Colorado, Montana and Wyoming also have groomed snowmobile trail systems, but most snowmobile riding there occurs in the backcountry – often at elevations more than 7,000 feet above sea level.
Riders forge their own routes as they carve meadows and climb mountain slopes. Since mountains are usually blanketed in deep powder, the snowmobiles need to be lightweight and nimble for easy maneuverability.
Compared to Trail snowmobiles, Mountain-class models like the Polaris RMK and SKS have longer tracks with taller lugs, plus a narrower ski stance that helps them perform well in deep-snow conditions.
Mountain snowmobile riders usually stand while maneuvering their machines across irregular, off-camber terrain that is common in the backcountry, which is why mountain snowmobiles have taller handlebars.
Key features include:
Longer tracks with deeper lugs for traction and flotation in deep snow
Narrower ski stance for easy maneuverability in off-trail terrain
Tall handlebar setting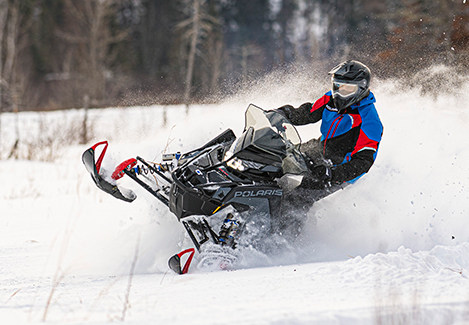 Crossover Snowmobiles
A typical Crossover snowmobile combines the ergonomics package and a wide ski stance of Trail snowmobiles with a lightweight rear suspension and longer track so riders can comfortably and confidently carve groomed trails one day, and then play in the backcountry the next day. To maintain on-trail handling, a Crossover snowmobile's rear suspension and track length and isn't as long as those typically found on Mountain machines.
The Polaris Switchback Assault models are premium crossover snowmobiles with best-in-class handling, a durable and capable suspension system and three ultra-responsive engine options, making it a top-rated snowmobile.
Key features include:
Trail friendly cockpit for a comfortable and controlled ride
Track length in-between trail and mountain snowmobiles for superior performance in both on- and off-trail terrain.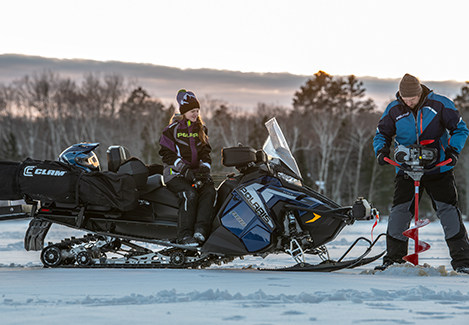 Widetrack Snowmobiles
Built to haul and tow passengers and gear, widetrack snowmobiles feature a larger track for additional capability. With a variety of engine choices, a widetrack snowmobile has the performance and capability for any terrain.
Polaris widetrack snowmobiles are the most capable in extreme conditions. The Polaris TITAN model is perfect for transporting or towing gear, firewood and other winter supplies – they're also a popular way to reach remote ice fishing spots. Featuring an articulated rear suspension design that requires no adjustments to go from 2-up to towing large loads and allows you to easily backup over obstacles.
Key features include:
Trail friendly cockpit for a comfortable and controlled ride
Track length in-between trail and mountain snowmobiles for superior performance in both on- and off-trail terrain.
Sport Utility Snowmobiles
Often considered the SUVs of snowmobiles, sport utility snowmobiles are built for work and play. They have longer, wider tracks than Trail class snowmobiles, and often feature tall track lugs that provide extra traction when riding off-trail.
After the work is complete, recreation machines can be used for fun and adventurous rides on- or off-trail.
Some sport-utility snowmobiles have the Articulated rear suspension for improved traction and mobility when backing, thanks to its rear section that automatically tips-up when it encounters an obstacle like a log. Other common features include racks and tie-down points, tow hitches, a passenger seat and wide skis.
Polaris sport utility snowmobiles are available with liquid-cooled or fan-cooled engines.
Key features include:
Rack and cargo tie-down points
Long, wide track with deep lugs
Low gear ratio
Entry Level & Beginner Snowmobiles
Entry Level and Beginner snowmobiles are a fun and safe way to show new riders the thrill of snowmobiling. The Indy EVO is designed for use on snowmobile trails where riders can build confidence, thanks to compact ergonomics and an engine that's electronically limited to 50 mph. As skills and confidence increases, the machine can be adjusted to suit the rider. With a longer track and deeper track lugs, the RMK EVO is designed for new mountain riders.
Key features include:
Adjustability to accommodate growing riders and improving skills
Compact size
Speed-limiter
Youth Snowmobiles
Youth snowmobiles are a fun and safe way to show new riders the thrill of snowmobiling. The 120 Indy is built and sized for youth riders. Safety features include a tether and adjustable throttle. It's powered by a simple four-stroke engine that will provide years of trouble-free fun.
Key features include:
Compact size
Adjustable throttle
Safety-tether
How Long Do Snowmobiles Last For?
Modern snowmobiles are remarkably reliable and easy to operate, and snowmobilers who follow the maintenance schedule outlined in their owner's manual can expect many years of trouble-free riding. Routine services include greasing the chassis, servicing the chaincase and replacing consumable items like wear bars and hyfax when necessary. Frequency of those services is based on factors like snowmobile use conditions and number of miles driven.
Other factors that help snowmobiles last long and run well include following the manufacturer's guidelines for oil and fuel, ensuring the engine has reached operating temperature before driving and following recommended procedures to prepare for off-season storage.
How Much Does a Snowmobile Typically Cost?
Similarly to the pricing of automobiles, features and technology weigh heavily on how much it costs to buy a new snowmobile. Find and compare prices of Polaris snowmobiles to find the model that fits your unique needs best. Features like shock technology, gauge package, track and even paint and graphics influence how much a snowmobile costs and are factors to consider when buying a used snowmobile, too.
Polaris Snowmobiles Research Tips
Polaris has eight engines in its Snowmobiles lineup: Patriot Boost, Patriot 9R, ProStar S4, 850 and 650 Patriot, 800 and 600 Cleanfire, 550 Fan and 120 four-stroke.
If a model name includes a number, it refers to the track length – in inches. For example, the Indy VR1 137 has a 137-inch track.
"RMK" stands for Rocky Mountain King. "SKS" is short for Snow King Special. "XCR" means Cross-Country Racer.
There are many options for people who are in the market for a new snowmobile, but hopefully this snowmobile buying guide cleared some of the confusion. Whether you want to work in the woods, explore the backcountry or cruise groomed trails, the perfect snowmobile is out there. A good next step is to visit a Polaris dealer where you can "kick the tires" and learn more about which snowmobile will be right for you. You might even be able to take one for a test ride!