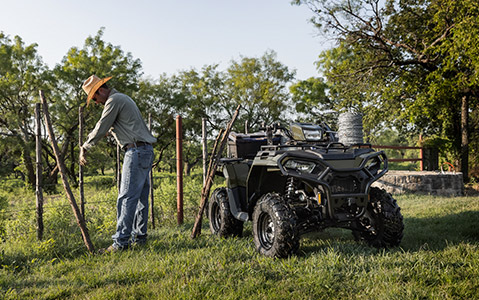 A Day in the life of a Farmer
Get an inside look at how our agriculture consumers are using their Polaris Off-Road Vehicles.
The ranch is a tough place to work. Dependability is demanded. And Polaris vehicles are put to the test every day—hitching up load after a load of hay, hauling livestock feed to the herd, and towing heavy Ag equipment. This is where a 1,000 lb dump box and up to 2,500 lbs of raw pulling power can help. Together, with the fastest-engaging AWD, Polaris helps you tackle the toughest terrain, checking every inch of field and fence line. See these rides in action right here, with real ranchers, in real situations getting it done every day.
The life of a cattle rancher isn't easy. Long hours, unpredictable weather, caring for the herd, and conserving the land are all parts of the job. Efficiency often contributes to success, though, and on this operation in Texas, two Polaris RANGERs help get the work done. Read Full Article
As days get shorter the list of things to do always gets longer. See how farmers, looking to increase their efficiency and their yield, are using the nimbleness of a 47.6" wide Sportsman and the strength of a 61HP RANGER to get the job done. They're made to get into hard-to-reach places—fixing fence lines, hauling rock, plowing snow, spreading seed and spraying weeds. Each leveraging raw power and the industry's fastest-engaging all-wheel drive to get from point A to point B fast—with room to haul farm equipment, tools, parts and more.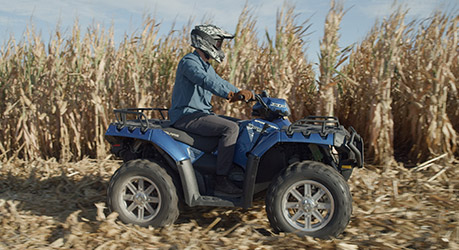 The Perfect Off-Road Vehicles for a Fast-Paced Farm
On this family farm in Iowa, two Polaris RANGERs and a Sportsman 850 are essential tools for everyday operations—planting, scouting, testing, harvesting, conserving and managing. Read Full Article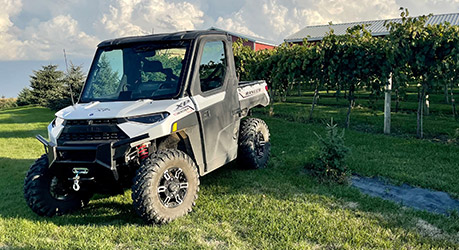 Out on the vineyard, there are hundreds of acres to tackle and easy access to every vine is critical to a successful season. Check out how Polaris vehicles are used to nimbly maneuver within a vineyard's tight rows to spray, check plant health and pick rock ahead of the harvest. Their class-leading hauling capacity and pulling power are put to test every day installing and maintaining heavy irrigation systems and trellises. The off-road vehicles are built to take on any terrain without damaging the soil and turn labor-intensive tasks into more manageable ones.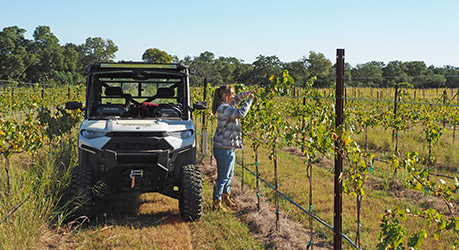 From planting to pruning, irrigating to harvesting, a lot of labor goes into growing grapes. On this family-owned operation in Texas, a Polaris RANGER is vital to the work of wine. Read Full Article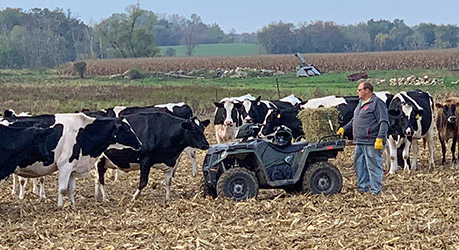 There's no downtime for the dairy farmer. Even as seasons change there's feed to move, milking schedules to maintain, grazing rotations to keep, and driveways to plow. See how the Sportsman is getting one farmer to every remote acre of land, quickly and confidently—taking the place of heavier and less fuel-efficient trucks and Ag equipment. It has the industry's fastest-engaging four-wheel drive to cross rutted and muddy fields, 1,000 lb of towing power to haul feed, with room to stow key tools for quick fixes around the property.
Sportsman Gets the Dairy Work Done
The endless chores are enough to make your head spin. But it's all a day in the life of this dairy farmer, who puts two Polaris Sportsmans to work to keep it all manageable. Read Full Article