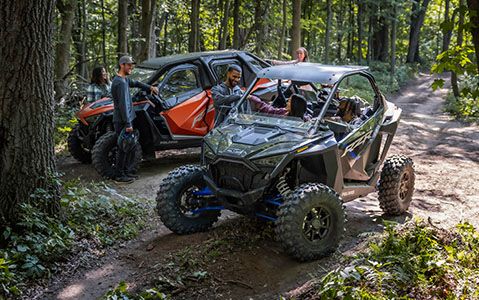 Taking off-road performance to the next level.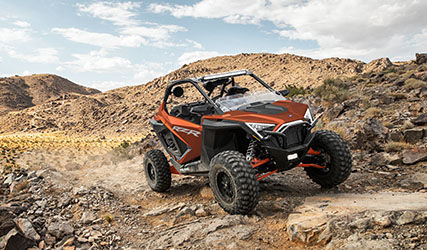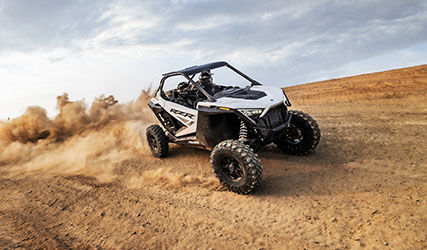 Designed to deliver power for corner-to-corner performance within the 20-50 MPH range where you crave it most.
Take on the world's roughest trails with 22" of usable suspension that soaks up all the bumps while DYNAMIX 2.0 unlocks instant control and confidence in virtually any terrain. Learn More about DYNAMIX.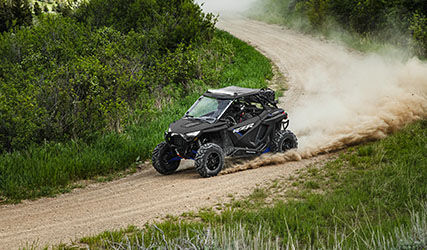 Carve tight terrain with confidence to go anywhere. The tight turn radius of the 96" wheelbase delivers nimble handling in any terrain.
Engineered to make you feel like part of the machine.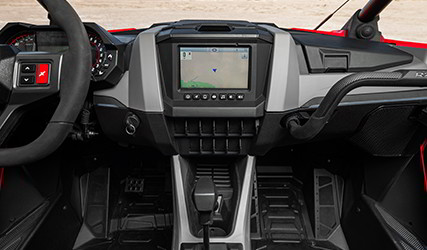 Feel the security of the driver-centric cockpit with 2" lower seating, bolstered bucket seats with 4-way adjustability, a tilting and telescoping wheel and look forward to uncompromising sightlines.
PREPARED FOR ALL-DAY RIDING
With leading 5.4 gallons of purposeful storage you can pack for a trail-side lunch or for a non-stop adrenaline rush to be ready for anything.
ELEVATED OFF-ROAD EXPERIENCE
Stay connected with Ride Command integrated into a 7" display, Rockford Fosgate Premium Audio is now louder and better than before and DYNAMIX active suspension continuously adjusts shocks on the fly.
Stronger and more robust in every way that matters.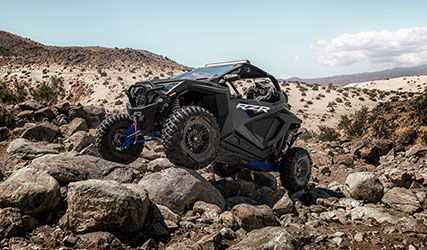 The untouchable performance with increased durability can be traced back to a one-piece steel chassis that maintains the integrity of the machine as you push it to the limit.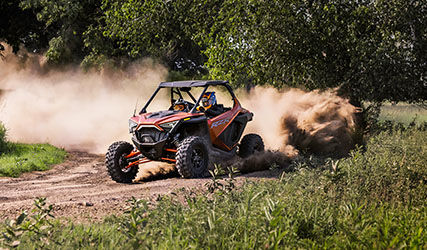 With a 39% stronger transmission, 3X stronger front drive and 8X stronger axles, every component is more robust, more refined and ready for you to stay on the gas through the toughest terrain.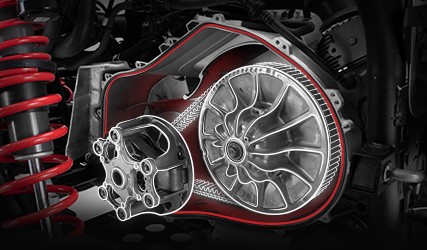 With every stab of the accelerator, you're rewarded with instant response and the assurance of knowing it can take the abuse. With a new open-clutch design and improved air-flow, the entire CVT system runs cooler resulting in twice the belt life.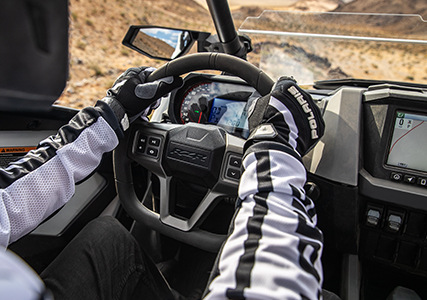 Industry-leading technology is at your fingertips so you can communicate with others, navigate with confidence, connect socially and visualize your route, all with brilliant 7" glove-friendly, touch-screen navigation and clarity. The Group Ride feature will keep you and others in your ride together even when out of sight.
Control that happens instantly. With shocks that adjust on-the-fly, DYNAMIX 2.0 creates unmatched vehicle stability and confidence in virtually any terrain. Steering wheel buttons put you in command so you can corner flatter, absorb the rough terrain and soak in the comfort.
ROCKFORD FOSGATE PREMIUM AUDIO
Turn up the volume and turn up the experience. If you like it loud and pure, then amp up your experience with the only true factory-installed, industry-exclusive integrated off-road audio system from Rockford Fosgate. Rugged, loud, clear, and purpose-built for the Pro XP.
Become an expert and learn in-depth information from product expert, Pat McArdle, in our new YouTube series--Shop Talk. Follow along as he takes you through innovative technologies and features that make our off-road vehicles the ones to ride.
Episode 1: The 181HP Turbocharged 925CC RZR Engine
This week, Shop Talk Episode 1 gives the lowdown on the 181HP turbocharged engine in the Turbo R & Pro XP. We go in depth in the design behind the new engine and the upgrades made of previous models.