Utility
September 15, 2021
4 Tips for Snow Plowing With Your ATV or UTV
Once snow starts piling up, ATV and UTV owners have a leg up over those wrangling shovels and snow blowers by hand. Outfitting your off-road vehicle (ORV) with a snow plow makes winter your playground: You no longer need to fear those blizzard-ridden forecasts. Rather, you might even start looking forward to them! After all, keeping your driveway or access roads clear when you've got a plow on your rig is not only a breeze: It can also be downright fun.
Here are four solid tips on snow plowing with your ATV or UTV!
(1) Make Sure the ATV/UTV Has the Proper Maintenance
A full winter workout of plowing requires that your ATV or your UTV/SxS is in tiptop shape, especially considering the extra load shoving and piling snow puts on your machine. Take time before the snow comes to give your ORV a thorough once-over and tend to any major upkeep issues. Many riders do this in the fall while the weather's still pleasant, which helps them roll into the plowing season with a bit more confidence to tackle what Mother Nature throws their way.
During the winter plowing season, you'll still want to stay on top of the routine inspections and maintenance you should be carrying out whenever you use your machine. Make sure fluid levels are adequate.
You'll also want to make sure you've equipped your four wheeler or side by side (SxS) with the proper tires to handle well in snow. Tracks may be helpful in improving your traction in areas with extreme snowfall.
(2) Understand if Your UTV or ATV Can Handle Plowing Snow
Check your owner's manual to make sure your machine is powerful enough to wield a plow and shove and haul snow. An underpowered machine may simply be unable to push through drifts; it may also suffer expensive damage from being overtaxed. A bigger engine can handle larger plows and heavier snow.
When it comes to ATVs vs. UTVs for snow plowing, context matters. If you've got just a small walkway or driveway to keep clear, a narrow ATV outfitted with a small plow may do just fine. For bigger driveways, access roads, and other larger areas, a UTV capable of handling a heavier, wider plow is often the better route.
Keep in mind there are different strategies for snow-plowing with an ORV, from directly pushing snow into heaping drifts to angling it into windrows you maintain all season long.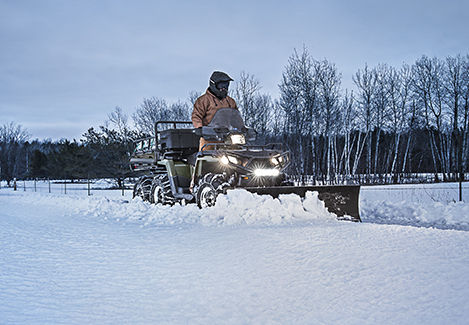 (3) Make Sure the Depth & Angle of the Plow is Correct
Just going out and powering through the snow with your 4-wheeler plow may not be the right approach. Make sure you're paying attention to the thickness of the snowpack and adjusting the plow depth accordingly: You don't want your plow blade to be digging into bare earth or pavement. If you're in a climate where snow tends to accumulate throughout the winter, you'll likely be lowering your plow over time; early in the season, or when snowpacks are scanty, keep your plow higher.
You also want to keep in mind the aspect or incline of the ground you're plowing. A driveway, for example should ideally slope a little bit away from your garage or house. Here's where adjusting the angle of our plow comes into play.
Besides considering the amount of space you're likely to be plowing, think about the amount of snow your location typically receives as well as its relative wetness. More and/heavier snow may require a bigger engine and larger ORV.
While we're discussing the depth and angle of your snow plow, we'll throw in an extra tip about avoiding mishaps or all-out disasters. Before the snow falls, make sure the areas you'll be plowing are clear of as many obstacles as possible, and mark permanent obstacles such as retaining walls, well heads, prized garden beds, and the like with reflective or flagged poles.
(4) Clear the Plow Before Stowing
After you've wrapped up your plowing for the day, the job's not done: You want to clean off the plow attachment and stow it correctly to minimize the chance of damage. Knock or wipe off any snow, ice chunks, or dirt that are clinging to the plow; left on, they may freeze and become that much harder to dislodge, as well as encourage rust on the blade. Lower the plow to the ground when you park to avoid unnecessary strain on your machine's winch and suspension.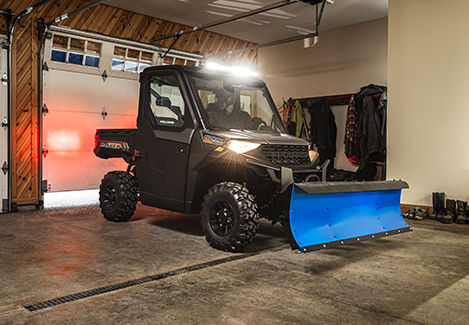 Tackle Snowdrifts in Style with ATV or UTV Plows
Think your quad or UTV is only useful on those spring-through-fall trails? Think again: You can put that ORV to work all winter long with the right plow attachment and associated accessories. Choose the right plow and accessories, and you'll be the neighborhood hero.