Recreation
March 04, 2022
Best Destinations for ATV and UTV Rentals & Tours
Some of the most scenic places in the world are quite remote and require a fair amount of walking to truly take in their astonishing views and vistas. But today, many of these sights can easily be accessed with the help of an ATV Rental or UTV Rental—often referred to as a side-by-side (SxS). These versatile machines can take you farther in less time with important gear you might need for the adventure. Plenty of these destinations now offer convenient off-road rentals so you don't have to trailer your own ride in.
Tips for ATV or UTV Rentals & Tours
Renting a ride for the day or going on an off-road tour can be a lot of fun, but if you've never done it before, here are a few things to keep in mind.

Get to know the types of vehicles
An ATV, such as a Sportsman, is generally a single seat 4-wheeled off-road vehicle with straddle/motorcycle-style seating and handlebar steering. A UTV or side-by-side is an off-road vehicle with bench or bucket seating for multiple riders and a steering wheel and foot pedals.

Consider your experience level
If you've never ridden an off-road vehicle, ask the rental company if they offer instruction before your ride—especially if you're going solo on a single-seat ATV. Or hop in a multi-seat side-by-side where someone else who has experience is driving.

Ask about the trails you'll be riding
Public trails are open to everyone who can trailer their vehicle to a location while private trails may only have traffic from the rental or tour operator. Ask if you'll have a guide riding along or if the trip is self-guided, and it's often beneficial if the vehicles you're renting have GPS navigation.

Find out what's included
Does it include riding gear? A good-fitting helmet, eye protection and protective clothing are essential. Also, ask if they require a security deposit and if proof of insurance is required to ride or if it's included in the price of the rental.
With these tips in hand, it's time to figure out where you want to go. We've pulled together a list of some of our favorite destinations that have rentals or tours available for a wide range of skill levels. A quick internet search for ATV or UTV rentals in any of these chosen areas should turn up rental options for you to choose from. Plus, we've included links to any locations that are near one of our Polaris Adventure Outfitter partners.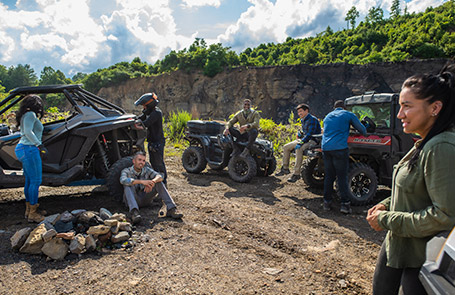 Black Hills ATV Rentals & ATV Tours (South Dakota)
A rugged and rocky region rising out of the Great Plains, the Black Hills feature plenty of opportunities to ride ATVs or SxSs down old dusty trails. While you're there, be sure to check out the massive granite faces of Mount Rushmore, herds of roaming buffalo in Custer State Park, and historic gold mining towns like Deadwood, SD.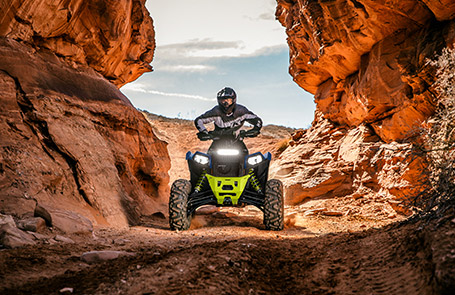 Red Rocks ATV Rentals & ATV Tours (Arizona)
Take in the stunning rust-colored rocks of Sedona, Arizona—best seen when fired by the glow of the setting sun. This region offers endless opportunities for adventure, with breathtaking views all around. And there's no better way to take in the region than on an ATV or side-by-side. While there, be sure to check out famous escarpments like Cathedral Rock and the Seven Warriors.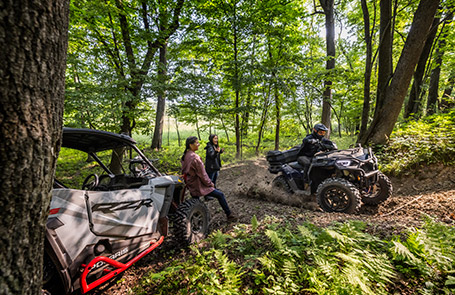 Poconos Mountains ATV Rentals & ATV Tours (Pennsylvania)
Just a few hours from New York and Philadelphia, the Poconos Mountains have been a historic vacation destination for the East Coast inhabitants. In addition to off-road excursions through wooded and rocky terrain, vacationers can experience a wide range of outdoor activities including including adventure courses, whitewater rafting, hiking, skiing, snowmobiling and more.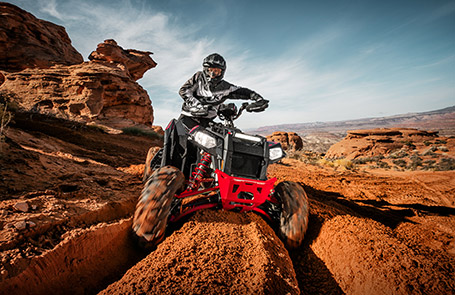 Grand Canyon ATV Rentals & ATV Tours (Arizona)
Everyone ought to experience this immense, mile-wide chasm cut into the face of the earth by the mighty Colorado River at least once in their lifetime. And off-road rentals and tours are a great way to take in the incredible views of this majestic landscape. Explore endless forest trails, countless historical sites and take part in amazing photo opportunities along the way. It's a unique adrenaline-filled experience that can't be beaten.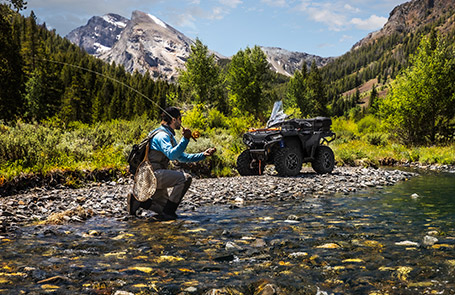 Alaska ATV Rentals & ATV Tours
Head to the last true frontier in the United States and get ready to connect with the outdoors in a way you never imagined. The Alaskan wilderness is beautiful, untamed, diverse, and teaming with wildlife around every corner. To experience it firsthand, go beyond the paved roads and take in the untouched landscapes of the massive Denali National Park with trail systems suitable for all ATV and SxS riding skill levels.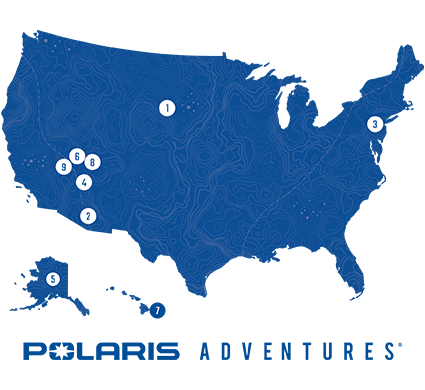 Sand Hollow ATV Rentals & ATV Tours (Utah)
Welcome to an ATV and SxS rider's haven. Sand Hollow State Park is famous for its scenery with red sand beaches, stunning red rock formations, and a massive reservoir to dazzle water-sports enthusiasts. But off-road riders love the region for its open sand dunes and technical trails with plenty of options for all skill levels. There are several outfitters in the area to choose from.


Outfitter Partners in the Area >
Kauai ATV Rentals & ATV Tours (Hawaii)
Named the Garden Island due to its lush, tropical greenery, Hawaii's fourth-largest island presents the perfect place to plant four wheels down and go off-road exploring on an ATV or SxS. We recommend the guided waterfall tour, provided by our outfitter partner, Kauai ATV Tropic Adventure. You'll be treated to 23 miles of trails filled with the sights, sounds, flora, and fauna of this incredible tropical paradise.


Outfitter Partners in the Area >
Zion National Park ATV Rentals & ATV Tours (Utah)
Explore the intricate and winding canyons, overlooks, and crevasses of this remarkable natural wonder. Well known for its hiking trails, Zion National Park also plays host to several off-road adventures that include visits to East Zion, Peek-a-Boo Slot Canyon, Hog Canyon, Inchworm Arch, and White Pocket. Bring your phone for photo ops and a sense of endless adventure.
Outfitter Partners in the Area >
Las Vegas ATV Rentals & ATV Tours (Nevada)
Vegas is known for its glitzy strip, flashy casinos, and an endless assortment of shows to take in, but a trip outside Sin City is worth the time, especially for a wild ride through the world-famous Mojave Desert tackling rugged desert trails, twisty sand washes, and natural rock formations on a rented ATV or SxS. No experience necessary.
Outfitter Partners in the Area >
We'd also suggest a tour of Las Vegas itself. You certainly can't take an off-road vehicle into the city, but you can take the Polaris Slingshot out for a cruise down the strip.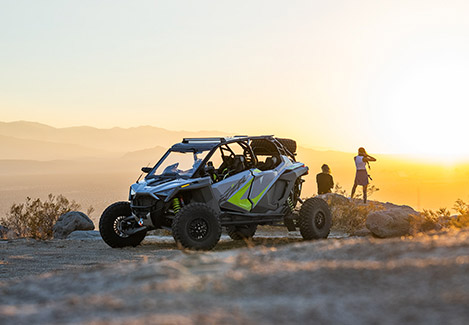 Now Get Out There and Enjoy the View

There's no shortage of awe-inspiring places you can rent an ATV or side-by-side, so check out the suggested locations above, browse Polaris Adventures and start planning your epic vacation with an off-road adventure or two thrown in. Or if you plan to stay put, find a new place and a new vehicle to ride in your own backyard. Rental options are virtually everywhere. We can't wait to see you out there.
Facebook® is a registered trademark of Facebook, Inc.
Twitter® is a registered trademark of Twitter, Inc.
Unless noted, all trademarks are the property of Polaris Industries Inc.
© 2022 Polaris Industries Inc.