Recreation
October 14, 2020
Expand Your Range. Discover New Hunting Ground.
Get out there. In your element. Well past the point where other hunters choose to tread — exploring new, undisturbed lands with a well-equipped hunting UTV or ATV. Out there where the world is different. Quieter. Less complicated. To that place that recharges your soul.
It's a place where you're kept company by the familiar steady thump of your heartbeat and maybe the soft panting of your favorite hunting companion. In pursuit of the day where it all comes together. A day borne out of your tireless work and planning that began months ago, bringing you here to this very spot at this very moment. Make it count.
While you can't hunt every day, you can certainly think about it. Dream about it. And prepare for it all year round. Getting yourself ready for whatever season you participate in — from small game to big game, field to the marsh. Of course, no matter which game you pursue there are universal truths. Such as: The more prepared you are the more likely you won't come home empty-handed.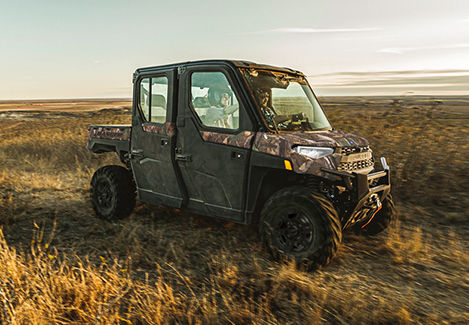 Setting trail cams, establishing stakeout points, hauling in deer stands, and creating food plots all have one thing in common. They never take place on the day of the hunt. And they all require regular access to the remote woodland, prairie grasses, marshes, riverbeds, and ravines that hold your quarry. Which is where a good Polaris UTV or ATV comes in.
PRO TIP: Planting food plots not only provide your game with a preferred food source and cover, they also enhance the long-term value of your property.
Get to the game — the best UTVs and ATVs for hunting
Yet not all ATVs and UTVs are created equal when it comes to hunting. Start with a brand you know and trust. You'll want that when you're away from it all, counting on your vehicle to not only get you to your remote location. But to get you back.
For the vehicle itself, you'll need high ground clearance to navigate rough terrain, a confidence-inspiring all-wheel drive that automatically engages on loose terrain so you don't even have to think about it, and powerful lights for those early mornings hauling in your gear. A quiet engine, lots of cargo space, easy accessory installation, and even the paint color of your ride are important considerations as well. Check out our camo and other paint options within our RANGER, GENERAL and Sportsman lineups for added concealment.
And remember, between creating food plots, checking trail cams, and gaining access on the day of the hunt, you'll be riding a lot — so put a little thought into your comfort including seats, ride & handling, HVAC systems and cab enclosures, too.
PRO TIP: If deer in the area are accustomed to tractors, trucks, or UTVs, use one to access your cams. Bumping a buck with a UTV might cause him to leave a field and slip back into the woodlot, but walking upon him in his bedding area will likely blow him out of the county.
Get a UTV or ATV ready-made for the hunt
If you happen to be without an off-road vehicle or are hitting the trails on an older model, consider a new vehicle with a ready-to-hunt package. Polaris offers a variety of hunting-equipped options within their lineups including the new GENERAL XP 1000 Pursuit Edition complete with extra storage, gun boot, and brighter lights or the all-new Sportsman XP 1000 Hunt Edition with 1,500-lb towing capacity, 3,500-lb Polaris HD winch, gun mount, and hand & thumb warmers.
The model you choose will depend on how you hunt, the remoteness of your spot, the terrain you'll need to tackle getting there, and how much you'll need to haul in and out as you prepare for the hunt.
Tight or non-existent trails, rugged terrain, and hard to access areas are better suited to the agile Sportsman ATV. While well-established trails, larger hunting parties, and bigger game fit the capabilities of a side-by-side like the GENERAL and RANGER UTVs with multi-passenger seating and rear cargo space to haul in your gear and haul out your prize.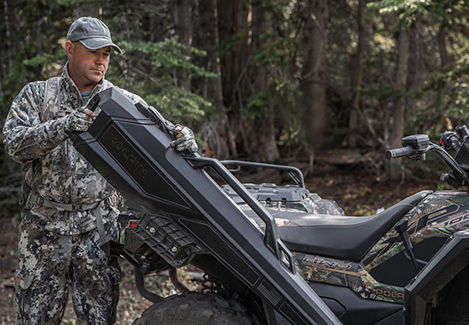 PRO TIP: If you have a lot of gear or a big hunting party consider a crew cab like the RANGER Crew XP 1000. You'll be able to haul more gear in with a single trip and keep everyone comfortable along the way.
Outfit your existing UTV or ATV to be ready for anything
New isn't the only way to get a fully equipped hunting machine. Polaris Engineered UTV or ATV hunting accessories, as well as high-quality Kolpin® accessories, are a perfect way to update your existing vehicle to accomplish anything you want to do.
But don't limit yourself to the day of the hunt. Your UTV or ATV can make quick work of clearing land to plant food plots. Simply add a sprayer to kill off undesirable foliage, a plow for prepping and cultivating the ground, a spreader to broadcast new seed, and a front loader to hoist hay bales or feed sacks. Of course, you can also add various mounts and clips to hold the landscaping tools you need to get the job done as well as extra lights for working well after dark.
When it comes time for the hunt, that front loader can perform double duty hoisting your big game. Or consider the RANGER Rear Cargo Bed Winch which can hoist objects, including big game, up to 300 lbs. Keep in mind, when it comes to gun safety, Kolpin offers an array of gun and bow racks, gun holders, gun boots, bow cases, and gun boxes that easily integrate with your Polaris UTV. Plus, RANGER has a whole line of accessories geared toward hunting including a Waterfowl Collection and a Big Game Collection. And finally, Sportsman offers a Hunter Collection designed to turn your ATV into the ultimate hunting partner.
If you plan to swap out accessories frequently, that's not a problem. Most accessories can be interchanged easily, but both Polaris and Kolpin also offer Lock & Ride® accessories designed specifically to make interchanging gear fast and easy, so you can outfit your vehicle for a wide variety of tasks.
And don't forget to take a look at the tires for the terrain you're about to tackle, or cab accessories to weather the elements you might encounter, be it sun, fog, rain, or snow.
PRO TIP: Polaris makes a Field Cover you can throw over any of our UTVs to make them blend into the woods.
Meet your virtual hunting guide: Ride Command®
This route planning and trail mapping technology is available on many Polaris off-road vehicles, but if yours doesn't have it factory-installed, don't sweat it. There's a Ride Command app you can download that does the same thing. Which is basically everything you would ever want in a trail navigation system and more.
Ride Command can map your hunting trails, drop waypoints on your favorite hunting spots, and even plot your trail cams so you can easily find them again. Plus, you can track other hunters in your group while navigating 750,000 miles of pre-downloaded trail maps.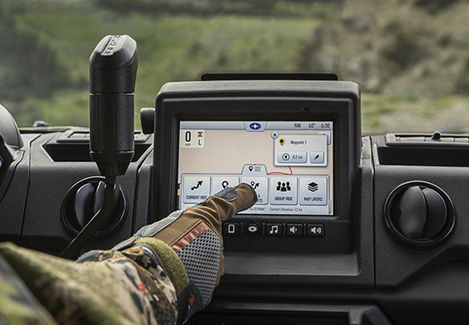 A well-equipped hunting UTV and ATV certainly won't guarantee you'll fill your tag this year or get your limit. Although, adding a Polaris off-road vehicle to your hunting expedition, or retrofitting one you already own, will improve your hunting experience, helping you get out there farther, and cover more ground while keeping tabs on all of your prep-work.
So, when the season begins, you can confidently get out there and back, and make the most of every moment of your hunt.