Buying Guides
September 01, 2021
UTV Windshield Buying Guide
A UTV windshield can dramatically improve your off-roading experience. And when it comes to windshields, there are many options with different style and material choices.

In this guide, we'll review each style of windshield along with the materials they're made with, as well as thepros and cons of each option.
Types of SxS UTV Windshields
The windshield you choose should depend partly on the type of riding you normally do, and partly on your style preference. Here's a quick breakdown of the main UTV windshield offerings, which include full, half, flip-up/tip-out, and rear windshields, as well as complete cab enclosures.
Full Side by Side Windshields
The full windshield entirely covers the front of your side-by-side cab. The complete coverage provides protection against dirt, rock, branches, dust, and other debris flung toward the nose of your machine, and also shields you from oncoming wind, precipitation, and sun glare. Keep in mind dust can swirl in from the sides and the rear of your UTV with a full windshield, though you can mitigate this with a rear windshield or full-cab coverage.

A full windshield is a great choice for many riders, especially those who do a lot of cold-weather off-roading. However, if you plan on going mudding, this may not be the solution for you. All it takes is a single mudhole splash on the windshield, and you can wipe out your view completely.

With some full, fixed windshields, the lack of airflow can leave you and your companions feeling a little warm on nicer days or in warmer climates. However, many models include adjustable vents or strategic openings to help with airflow throughout your machine.
Half Side by Side Windshields
A half windshield provides some protection against debris and the wind-tunnel effect while still allowing a bit of airflow in the cab. Their design—especially those with a molded lip at the top—tends to deflect most of the dust and wind upwards and over the machine as it's cruising along. Half windshields can usually be easily removed for when you don't want a shield on.

The partial protection of the half UTV windshield makes it a great choice for any type of terrain that may cause an accumulation of material on the windshield, as well as for any off-roaders who appreciate at least some of that open-air feel as they ride. This type of windshield also adds an element of style that some riders prefer.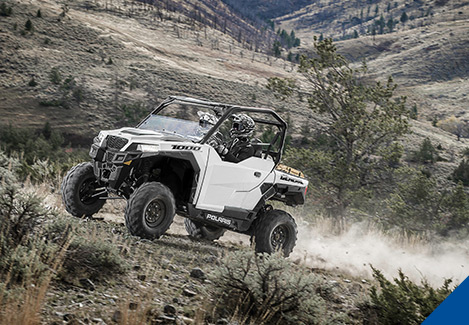 Flip Up or Tip Out SxS Windshields
You can get the best of both worlds with flip-up/tip-out windshields and other modular setups. These allow you to have the protection and insulation of a full windshield when you want it and the ability to halfway or completely fold down the windshield when more airflow and/or unobstructed vision is required.

Flip-up, flip-down, and tip-out windshields give you maximum versatility for tackling different kinds of trails, different conditions, and different seasons. When looking into these types of UTV windshields, pay attention to the mechanics of how the windshield works, as some options are more complicated to adjust or more durable than others.
The front of your UTV can be fully protected by a windshield, but those rear tires of yours may still fling gravel and dirt into the cab from behind—and a full windshield and an otherwise open machine cause dust to be sucked into the cockpit. A rear windshield, also known as a rear panel, cuts down on these issues, so it's a good choice for those who often ride on dusty, rocky, or muddy trails.
Maximum protection comes with a fully enclosed cab. This can be accomplished with front and rear windshields, doors, and a roof. Soft enclosures made of meshed or plastic-paneled fabric still allow for airflow with added protection, and typically come with a lower price tag. Full UTV enclosures are great for all-weather, all-season use for those who want to hit the trails in their side-by-side year-round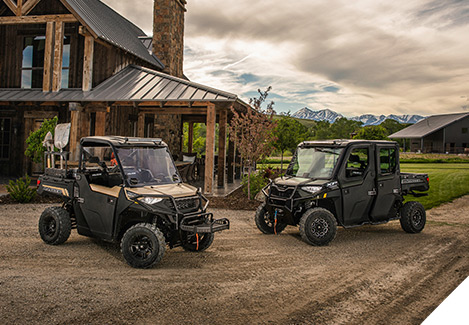 Types of UTV Windshield Materials
Besides picking between different UTV windshield configurations, you'll also have choices when it comes to the kind of material used to construct the shields: polycarbonate ("poly"), acrylic, or glass. Each has their own benefits and attributes to consider.


Strength: resistance to cracks or breakage
Scratch-resistance: aka "hardness" (not to be confused with strength). Scratches aren't just a drag aesthetically; they also hamper your vision, especially when it comes to sun glare.
Clarity: typically measured in the percentage of visible light the windshield lets through
Polycarbonate Windshields
Windshields made from polycarbonate rank as the strongest choice by a healthy margin. They're also clearer than glass windshields, while transmitting a bit less visible light than their acrylic counterparts.
Uncoated polycarbonate, an affordable option for a side-by-side windshield, falls short only in the hardness department: This is the least scratch-resistant material. However, with a coated polycarbonate material, the hardness of and level of scratch resistance is comparable to glass (the most naturally scratch-resistant windshield material).
While you pay more for this quality, a coated poly windshield is the most robust option of all, combining unbeatable strength with topnotch hardness—it's also great for UV protection.
Acrylic UTV windshields offer the highest clarity with a level of strength landing between glass polycarbonate options. They're also the middle ground when it comes to hardness, being more scratch-resistant than uncoated poly and less resistant than glass. A unique benefit to acrylic is the ability to polish out minor scratches that may develop.
Generally speaking, acrylic windshields tend to be among the least expensive you can buy—another advantage, depending on your budget.
Glass is the hardest windshield material. Its hardness helps prevent scratching and helps maintain clarity over time, prolonging the life of this typically pricier option. Although some glass windshields may be more prone to crack than those made of other materials, windshields made with tempered or laminated safety glass are much stronger.
Adding a windshield to your UTV delivers many benefits, from greater protection against airborne debris and blazing sunshine, to providing a cozier ride in cold weather. A UTV windshield can take your off-roading to the next level. With all the options in the market, you're sure to find a shield that checks all your boxes without breaking the bank.