Buying Guides
September 22, 2021
Weather the Elements with UTV Cab Enclosure Systems
When it comes to extending your riding season or simply keeping yourself safe and comfortable on the off-road, choosing the right side by side vehicle with the proper cab enclosure is essential.

The easiest place to start is to purchase a side by side with a complete cab system, such as a Polaris RANGER XP 1000 NorthStar Edition or any of our GENERAL side-by-side vehicles. We also offer a wide range of accessory collections offering cab enclosure components designed for specific uses — including the Big Game accessory collection available for hunters on various RANGER vehicles, the Mountain collection available for the RZR XP Pro, plus many more.

But if your side by side comes with an open or partial cab, you have plenty of great options to upgrade. That's where Polaris Engineered™ UTV enclosures come in. They're easy to install and fit together like a glove — keeping rain, snow, dirt and dust out of your side-by-side's cab. They can also help your HVAC system, if you have one on your vehicle, work more efficiently.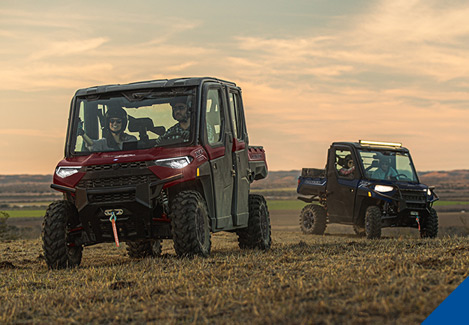 With an enclosed cab on your Polaris side by side, you'll be able to stay warmer well into the winter months while keeping your cool all through the high heat of the summer. And since all parts are manufactured by Polaris, versus a third-party aftermarket supplier, you know they'll fit your vehicle perfectly for the highest level of protection from the elements.
The Power of UTV Cab Enclosure Systems
You'll be happy to know, Polaris universal cab enclosures come in a wide variety of configurations to fit whichever Polaris vehicle you currently own or perhaps intend to buy, so you can easily accessorize it to fit your region's climate and your individual offroad needs.

Whether you're managing the extreme heat of the desert, navigating the high altitudes of the Rockies, or braving wild and unpredictable temperature swings common to the northern plains, a full cab enclosure is the way to go.

First, you'll want to decide whether you need a UTV hard cab for your side by side ATV that provides an all-weather, all-season enclosure to tackle temperature extremes. These heavy-duty enclosures are great for those who want to hit the trails year-round. Or you can opt for a UTV soft-cab enclosure made of meshed or plastic-paneled fabric. These enclosures allow greater airflow, are more suited to managing moderate temperature swings, and typically come with a lower price tag.

Polaris offers both types manufactured specifically for Polaris RZR cab enclosures and Polaris RANGER cab enclosures, so you always know you're getting a custom fit. Plus, we offer Polaris cab accessories to fit our GENERAL lineup, with several models offering factory-installed cab components, designed to keep the elements out, available right off the assembly line.
What Are the Components of An Enclosed Cab?
When considering a UTV cab for your side by side ATV it's important to understand the components that make up a complete enclosure. It's also helpful to know that you can purchase a full enclosure, one part of an enclosure (such as a windshield), or mix and match components within a model lineup to customize your cab.

In general, if you're looking at adding a complete cab enclosure it commonly consists of a front windshield, side doors, a rear panel, and a roof that all fit together to establish your own desired level of protection from the elements. You can also add storage covers, like the Polaris RANGER Tonneau Cover, to help keep your gear dry.
Adding a Windshield to your UTV or Side by Side
If you choose to go the part-by-part route, a front UTV windshield is one of the more common additions to your ride. A windshield helps keep wind, trail dust, light debris, and yes…even bugs out of your face while riding. This is especially important if you plan to be traveling at any speed.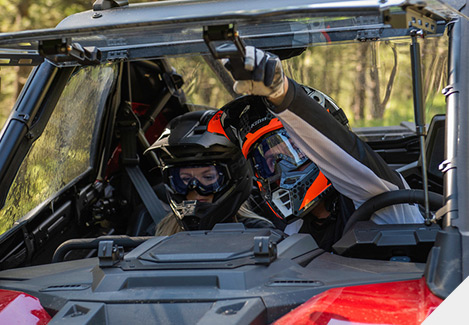 You have a variety of options here, including full, half, and flip-up windshields. You also have several materials to choose from including polycarbonate windshields that are strong, lightweight, and flexible, acrylic windshields that offer exceptional clarity and moderate scratch resistance, or glass windshields offering added durability and superior clarity. Glass windshields with tempered or laminated safety glass provide even greater strength and durability.

When you add a front UTV windshield, be sure to consider a rear windshield or back panel as well. Adding a front windshield affects the airflow over your vehicle, creating a backflow that can suck the trail dust back into your side by side's cab.
Adding Doors to your UTV or Side by Side
Doors for your UTV play an important role in comfort, convenience, and safety. Your first option is to go doorless. This offers the fastest access to your cab, allowing you to get in, get going and get out quickly. It's often a preferred route for those working the land who jump in and out of their vehicle frequently as they go about their daily tasks. Keep in mind, doors and other parts of your cab can be added or removed easily to fit the precise job at hand or the season.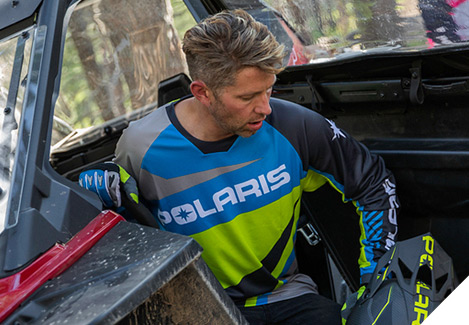 Your other options include partial doors that provide extra protection from kicked up dirt, dust and tree branches when you're out navigating the trails, while still offering easier access than a full door with a glass or plastic window. Of course, if you choose to go with a full door it will provide the most protection from the elements, dust, and debris. Most Polaris side by side models offers you the option of a hard or soft cab. This choice applies to the doors as well, with each style offering its own benefits of price, protection, performance and convenience.
Adding a Roof to your Side by Side or UTV
One remaining piece you should consider adding to your RANGER or RZR side by side is a roof if it doesn't already have one. Just like all the other cab components it can be added separately or as part of a complete enclosure. You also have the option of a hardtop or water-resistant soft top with variations available depending on the model side by side you're outfitting. Both types provide some level of protection from the elements, keeping the rain, mud, dust and dirt off of you while you're riding. Although a hardtop will hold up better in a heavy downpour. Remember, a roof can only do so much if you don't have doors or a windshield providing full protection.

One other thing to keep in mind — a roof provides you valuable cover from the harsh sun, keeping you safer and cooler during the summer months. All UTV roofs are relatively easy to install and can be added or removed at any time depending on what you'll be doing on the trail or on your property.
Put Together a UTV Cab Enclosure Today for your Vehicle
From Polaris RANGER hard cab enclosures to Polaris RZR soft cab enclosures, individual windshields to half doors, Polaris has the easy-to-install parts and accessories to fit any need and any side-by-side vehicle. And with so many options, the ability to customize your side by side is virtually endless.

But perhaps most importantly, every part is designed and manufactured by Polaris for your Polaris vehicle, so you know it will all fit together perfectly when you buy it and install with minimal effort. This means you get a tighter fitting cab that keeps you clean, comfortable, and dry. Something that can't always be said for aftermarket accessories made by third parties.

So, whether you decide to go the full UTV cab enclosure route, assemble your own cab part by part, or simply want a windshield to block some of the dust, we've got you covered… quite literally.