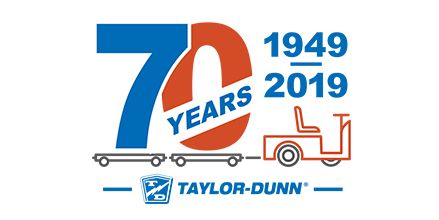 From Side-Hustle To Industrial Workhorse: Polaris Celebrates 70 Years Of Taylor-dunn
Minneapolis, September 5, 2019 – It's an industrial workhorse with humble beginnings and it's turning 70. Taylor-Dunn, part of Polaris Inc. (NYSE: PII), started in the garage of RD Taylor in 1949 when he designed and built his first electric-powered cart to help him drive new efficiencies across his small poultry supply business. What started as a backyard creation 70 years ago, turned out to be a new class of vehicles that would revolutionize material movement and transportation across industries. Today, the world-renowned company has one of the largest portfolios of commercial and industrial vehicles, customers and retailers across the globe.
"Both Taylor-Dunn and Polaris were founded by men who saw a need, had the ingenuity and determination to build something to meet that need, and went on to establish an industry around their invention," said Chairman and Chief Executive Officer of Polaris Scott Wine. "So we share a history – and a culture – of innovation, and while our respective founders could not have foreseen where that drive to create would take us, I am confident they would have seen Polaris and Taylor-Dunn as kindred spirits. Along with the rest of Polaris, I commend Taylor-Dunn for their rich history of success, and look forward to what we will accomplish together over the next seven decades."
Taylor-Dunn was officially incorporated in 1951 when Taylor's son-in-law Fred Dunn signed on as a partner of the company, and they began selling carts to ranchers and nurseries across the area. In 1955, the company sped up a round of golf and simplified neighborhood shopping trips with its three-wheeled, 24-volt electric golf cart. Eventually, Taylor-Dunn moved away from the golf cart industry to focus purely on its commercial and industrial lines, and the innovations have never slowed. Over the years, the company has streamlined closed-campus goods movement with the Bigfoot utility vehicle lineup and added additional flexibility and maneuverability to its line of commercial warehouse vehicles with the TT-316 tow tractor.
In 2016, Polaris acquired Taylor-Dunn to increase its comprehensive line-up of commercial and industrial vehicles, as well as to continue developing Taylor-Dunn vehicles. This has included leveraging Polaris' engineering expertise to co-develop the G-100 in 2017, Taylor-Dunn's first off-road utility vehicle.
Today, the company has a broad portfolio of vehicle models designed to move people and goods with electric, LPG and gas-powered options that are customizable for any application. Each vehicle is designed to increase productivity, durability, and safety across closed campus applications such as campus security, housekeeping, manufacturing and grounds maintenance. Additionally, Taylor-Dunn's global network connects with customers and helps spread the word about the company's industry-leading personnel, burden, and tow vehicles.
When it comes to transportation, Taylor-Dunn vehicles have been a staple across the entertainment and sports industries for decades. From airports to zoos, and everything in between: at Disney World, the San Diego Zoo and Universal Studios, Taylor-Dunn's multi-passenger trams are designed for enhanced visibility and can carry up to 30 people quietly, safely and efficiently.
"At Taylor-Dunn, we're never happy with the status quo and constantly working to create the best of the best across industries. And as I look back on the past 70 years, I couldn't be prouder of how far this company has come," said Polaris Commercial and Government Vice President and General Manager Keith Simon. "Our success can be attributed to the mindset and work ethic of our employees, great retailers and industry partners, and our loyal customers that are constantly inspiring us to do more."
To celebrate its 70 years of success, Polaris will be featuring the storied history and innovative future of Taylor-Dunn with fun facts, pop-culture tidbits and customer spotlights across its LinkedIn social channel. Follow Polaris Commercial.
Editor Note: For high-resolution images, data sheets or infographic, please contact Katie Paulson, katie@kp-publicrelations.com.
About Polaris Commercial
Backed by 65 years of Polaris innovation, Polaris Commercial offers a comprehensive line of durable, versatile and customizable work vehicle solutions for transporting people and hauling equipment in urban environments and industry applications. GEM, PRO XD, Taylor-Dunn and RANGER vehicles are engineered with the customer's needs in mind to be dependable, safe, sustainable and to increase productivity. The dedicated and specialized employees of Polaris Commercial provide end customers with simple purchasing processes based on individual needs, dedicated customer support and a worldwide network of dealers for localized service.
Polaris Commercial | Polaris.com/Commercial
About Polaris
As the global leader in Powersports, Polaris Inc. (NYSE: PII) pioneers product breakthroughs and enriching experiences and services that have invited people to discover the joy of being outdoors since our founding in 1954. With annual 2018 sales of $6.1 billion, Polaris' high-quality product line-up includes the Polaris RANGER, RZR, and GENERAL side-by-side off-road vehicles; Sportsman all-terrain off-road vehicles; Indian Motorcycle mid-size and heavyweight motorcycles; Slingshot moto-roadsters; snowmobiles; and deck, cruiser and pontoon boats, including industry-leading Bennington pontoons. Polaris enhances the riding experience with parts, garments, and accessories, along with a growing aftermarket portfolio, including Transamerican Auto Parts. Polaris' presence in adjacent markets includes military and commercial off-road vehicles, quadricycles, and electric vehicles. Proudly headquartered in Minnesota, Polaris serves more than 100 countries across the globe. www.polaris.com