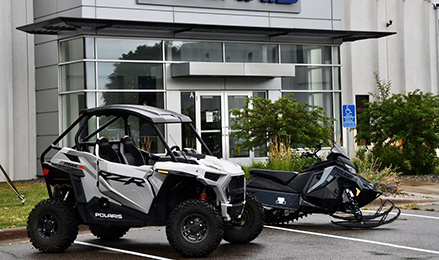 Polaris Brings Additional Manufacturing Capabilities in-house at Monticello Facility
>
There's a new Polaris sign in Minnesota, and it's proudly displayed above the front entrance of the former WSI Industries (WSI) building in Monticello, MN. Like Polaris, WSI has a long history in Minnesota dating back to 1950 but the relationship between the two companies began in 2001 when Polaris became a WSI customer, sourcing motorcycle heads and crankcases. Polaris then acquired WSI Industries in 2018 and by 2021 WSI had evolved to 100 percent of its production dedicated to Polaris vehicles. The name and sign change on the Monticello facility celebrates this evolution.
As the newest member of the Polaris manufacturing facility family, Monticello produces parts for its sister facilities across Polaris' global network. Motorcycle crankcases and heads go to Osceola, Wisconsin, ORV crankcases and heads to Monterrey, Mexico and pivot tubes to Roseau, Minnesota, Huntsville, Alabama, Monterrey, Mexico and Opole, Poland. And as of September 2021, Polaris Monticello now has in-house die casting capabilities making it a vertically integrated facility.
"Developing an internal core competency for machining engine components – such as die casting our own motorcycle crank cases – helps us deliver and enhance our whole goods products while driving efficiencies," said Dalton Pierce, vice president of Central Operations, Polaris.
Bringing such machining in-house meant Polaris Monticello had to receive some updates including creation of pits to accommodate the size of the equipment, installation of new support beams, a new overhead door, layout adjustments and more. All made possible thanks to the dedications of skilled employees.
Additionally, the new capabilities pared with continued growth in customer demand for Polaris' products, the Monticello team welcomed several new team members since June 2020 and looks forward to continuing grow in the years ahead.