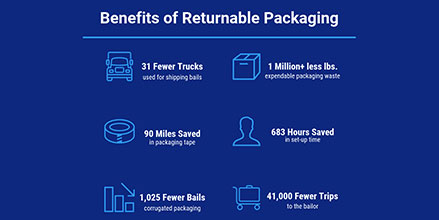 Introduction of Returnable Packaging Leads to 1M Pound Reduction of Packaging Waste
>
Minneapolis, MN (May 17, 2019) – In early 2018, a packaging engineer at Polaris' Huntsville Facility noticed that as production grew so did the amount of expendable packaging being used to store parts coming off the sites' injection molds. Furthermore, the packaging being used simply could not withstand the operational needs with many of the boxes showing signs of wear after a single use.
Seeing an opportunity for reduced spend, improved efficiency and waste reduction, the engineer enlisted a team to help put forth a recommendation for implementing returnable packaging. The team was comprised of four individuals who together detailed out the need, tallied the numbers and worked cross functionally to bring the returnable packaging to the Huntsville facility.
The new plastic containers have a reuse life of 6-10 years – a vast improvement from two uses. In total, the switch to returnable packaging resulted in a reduction of more than 40,000 expendable packaging assemblies, 638 labor hours saved and packaging tape savings equivalent to 90 miles (see graphic).
These results are not only beneficial to Polaris but help to reduce our overall environmental footprint making this project a primary example of Geared for Good in action.