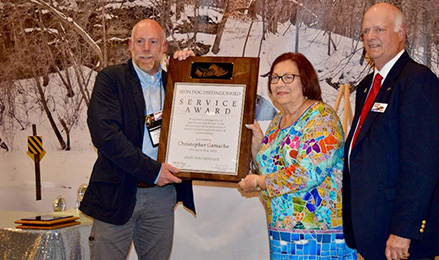 The People Behind POLARIS: Employee Spotlight Series – July 2022
Chris G.
>
Polaris' Chris G. was recently recognized with the Distinguished Service Award by the Iron Dog Brigade at the International Snowmobile Congress in June 2022. The Iron Dog Brigade is known to be filled with the most respected and hardest working members of the snowmobile community. Annually, they award a member of the snowmobile community who has dedicated effort and time to the sport of snowmobiling and safe riding practices.
Chris has an intensive background in the sport of snowmobiling. He started working for the State of New Hampshire in 2001 and became Bureau Trail Chief in 2006. With his leadership, Chris paved a way for the sport within the state. In 2008, Chris was awarded the International Snowmobile Administrator of the Year. Following that prestigious award, Chris became an Iron Dog in 2016.
In 2020, Chris joined Polaris as 'Trails Manager' for Polaris Ride Command. With his diverse experience in snowmobile and trail management, this was a perfect role for Chris! Ride Command provides off-road vehicle and snowmobiles riders with features to help enhance the riding experience, including a mapping system that features more than 1 million miles of trails.
As Chris was given this admirable award, the Iron Dog Brigade reads, "Chris has always been considered a leader regionally, nationally, and internationally on all issues that relate to motorized trails and outdoor recreation – traditional uses as well as new and emerging trail-related recreation activities. Chris eventually became chairperson of the IASA. In that capacity, Chris served on the ISC Planning Committee. He was a great resource for this group. Chris has always been a team player. He understands the importance of volunteers and snowmobiling and everyone working toward the same common goals… It's exciting to see Chris' son carrying on with his passion for snowmobiling and his involvement and leadership with his college team at the Clean Snowmobile Challenge. It is heart-warming to hear that he introduced the love of riding to his engineer teammates, who are now also snowmobile enthusiasts!"
Chris was praised for his positive attitude and commitment to the sport of snowmobiling. Here at Polaris, our employees spend time in their professional and personal lives showcasing what it means to #THINKOUTSIDE. Congratulations to Chris and this well-deserved recognition by the Iron Dog Brigade for the impact he has – and continues to make – within the snowmobiling community.