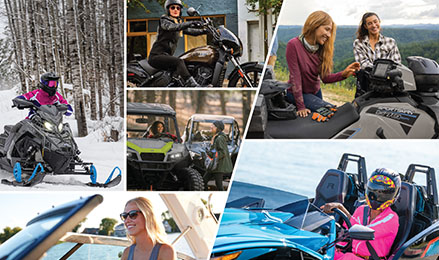 Polaris Celebrates Women Riders This Upcoming International Female Ride Day

From long-time owners to those interested in trying powersports, Polaris invites women riders to "Just Ride" this International Female Ride Day, taking place globally on Saturday, May 6
Polaris continues to elevate the voice of the women rider with new IFRD insights project
MINNEAPOLIS (April 19, 2023) – Polaris Inc. (NYSE: PII), the global leader in powersports, today shared how it is continuing to help spotlight and celebrate the participation of women riders in powersports as an official partner of International Female Ride Day (IFRD). Polaris is inviting women riders, no matter their powersports vehicle of choice or their skill level, to "Just Ride" on Saturday, May 6. To continue to listen and learn from women riding enthusiasts across powersports, Polaris is also launching a new survey on IFRD aimed at gathering insights and elevating the perspectives of the women riders.
IFRD aims to keep women at the forefront of riding and encourage new women to join, while promoting the diversity of women already engaged in all aspects of the powersports industry. Women can join in by riding their off-road vehicles, motorcycles, three-wheeled vehicles, boats, or other powersport vehicles on May 6 and use the hashtag #IFRD2023 to join in the conversation. Polaris is celebrating IFRD across the U.S. and around the world with off-road and on-road group rides, dealer events, and demo rides to further empower, recognize and welcome the participation of women in powersports.
"As the global leader in powersports we want to help build an active and thriving industry and women riders are a central part of that - it's why we participate in events like IFRD, to celebrate women riding enthusiasts and inspire even more to join," said Pam Kermisch, Polaris chief customer growth officer and fellow woman rider. "Women riders have a long history in our industry, but we are seeing the number increase as more discover the joy, freedom and outdoor adventure that powersports can offer. In fact, women participation across our portfolio of products has grown by nearly 10% over the last 5 years and we will continue to make women feel included and welcomed as they ride with us on the open road, trail, snow or water."
"I am thrilled that Polaris is partnering with International Female Ride Day again for 2023," said Vicki Gray, founder of IFRD. "Their support has been and continues to be invaluable in propelling International Female Ride Day to even greater heights. I'm grateful for the synergies we share and their absolute support of our vision – highlighting and supporting women riders while expanding equity in powersports."
Listening to All Riders Across the Industry
In addition to celebrating the passion of powersports with its women riders, Polaris is also furthering its efforts to listen to and learn from its women owners, riders and powersports enthusiasts with the launch of its most expansive women ridership survey efforts to-date. Launching on IFRD, a new survey project aims to further elevate the voice of the women rider and gather additional insights on how to enhance the powersports experience.
"Polaris is continually listening to and learning from our customers – and that includes our women riders," Kermisch shared. "From in-depth customer research, to partnerships with groups like Black Girls Ride and Women Riders Now, to the launch of our Empowersports Women's Riding Council in 2020, we have been actively working to connect with and bring the voices of our women riders deeper into Polaris. We will continue to expand our efforts to engage with and hear from the women in our industry."
Inspired by similar recent activities conducted by key partners, such as The Litas, Polaris aims to survey women powersports consumers in the off-road, on-road and marine segments. The survey can be found on Polaris' IFRD landing page on May 6th, 2023.
Participating in IFRD
Participation in IFRD is free and easy. Participants can ride solo, with a group of friends or family, or as a passenger. Riders can also participate by sharing photos of their rides and what riding means to them on social media using the hashtags #IFRD2023, #FocusFemaleForward and #internationalfemalerideday. Polaris is supporting IFRD in several ways, including:
More than 300 Polaris and Indian Motorcycle dealers across the United States and Canada are offering local IFRD rides, meetups, or celebrations.
Hosting a ride in France with participants from the U.S., Canada and across Europe. Riders will leave from Biarritz, France, and end at the Indian Motorcycle Nice dealership for an IFRD celebration. The celebration will be open to public and owners.
"The Litas motorcycle community celebrates the power and spirit of women ridership, and with this upcoming IFRD, we will honor the fearless women who ride with us," said Jess Wise, CEO and founder of The Litas. "With our branch activations around the world, The Litas and Polaris are proud to stand by the side of women riders everywhere, helping to create unforgettable adventures and fostering meaningful connections within our community."
For 17 years, IRFD has fostered a community of current and new women riding enthusiasts dedicated to advancing women in powersports. The ongoing theme of "Focus-Female-Forward'', first introduced in 2021, continues to be a focal point for 2023 and highlights the mission of IFRD.
More information on Polaris' support of IFRD, along with a list of participating dealers, is available on the www.polaris.com/IFRD.
About IFRD
About International Female Ride Day® International Female Ride Day® is a globally synchronized ride day for women motorcycle riders and women powersport enthusiasts. Referred to as a "movement" by its participants, its call to action, "Just Ride! " asks women to be on their motorcycles or powersports vehicles on the first Saturday of May each year. Created in 2007 by Vicki Gray, a lifetime motorcycling advocate, road, and race instructor – with the purpose to profile and highlight the many diverse women enjoying the activity of motorcycling. Its mission, among several, is to that of building awareness, expanding female rider numbers, and for parity globally across all forms of motorsport and powersports. IFRD simultaneously encourages other women to take up the activity. The event is managed under the MOTORESS® canopy.
About Polaris
As the global leader in powersports, Polaris Inc. (NYSE: PII) pioneers product breakthroughs and enriching experiences and services that have invited people to discover the joy of being outdoors since our founding in 1954. Polaris' high-quality product line-up includes the Polaris RANGER®, RZR® and Polaris GENERAL™ side-by-side off-road vehicles; Sportsman® all-terrain off-road vehicles; military and commercial off-road vehicles; snowmobiles; Indian Motorcycle® mid-size and heavyweight motorcycles; Slingshot® moto-roadsters; Aixam quadricycles; Goupil electric vehicles; and pontoon and deck boats, including industry-leading Bennington pontoons. Polaris enhances the riding experience with a robust portfolio of parts, garments, and accessories. Proudly headquartered in Minnesota, Polaris serves more than 100 countries across the globe. www.polaris.com.