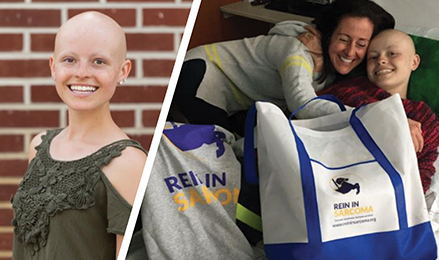 The People Behind Polaris: November Employee Spotlight – Miranda Mead
>
At 16 years old, Miranda Mead was diagnosed with Stage 4 Ewing sarcoma, an extremely rare form of bone cancer. Miranda was given a 30 percent chance of survival with a six-inch tumor on her sacrum along with multiple cancerous spots on her lungs. After three misdiagnoses, Miranda underwent 14 rounds of chemotherapy and 31 days of proton radiation at the Mayo Clinic.
Today, Miranda is a Polaris employee within the Sales and Marketing Leadership Development Program. She is also actively engaged with the Rein in Sarcoma nonprofit, a resource for patients and families touched by sarcomas, an uncommon and often misdiagnosed group of bone and soft tissue cancers that strike children and adults alike. From speaking at the New York Stock Exchange to Capitol Hill, Miranda supports Rein in Sarcoma from her home state of Minnesota.
As a Polaris employee, she became aware of the Polaris Gives program through the Polaris Foundation, which helps to support the causes and 501c3 non-profit organizations that are important to our employees. Earlier this year, Miranda reached out to request a donation for the 2022 Annual Rein in Sarcoma fundraiser.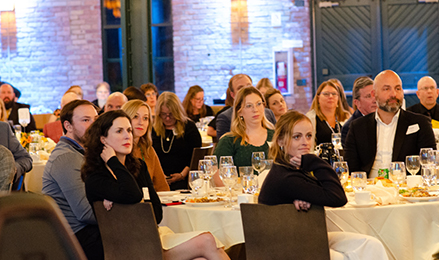 A Night Highlighting a Survivor to Thriver Mindset
On September 28, Polaris Gives donated $2000 to support Rein in Sarcoma's mission of, "educating the public and medical community about sarcomas, supporting sarcoma patients and their loved ones, and funding research directed toward developing new treatments and finding a cure for sarcoma cancers" and became a corporate sponsor of the event. Two Polaris Slingshots were provided on the night of the fundraiser for demo rides and to introduce keynote speaker, Mark Herzlich, former NFL football player and Ewing Sarcoma Survivor, who rode onto the stage in style in the Polaris Slingshot. "The theme for the fundraiser was, 'Survivor to Thriver,' so the way Slingshot enables people to get outside and enjoy life really embodies that Thriver mindset," says Miranda. Rein in Sarcoma raised $215,000 that night.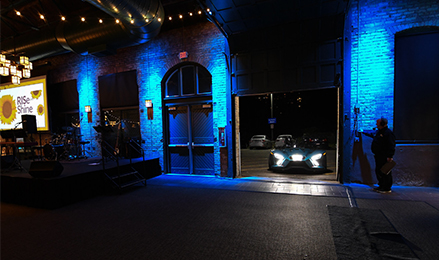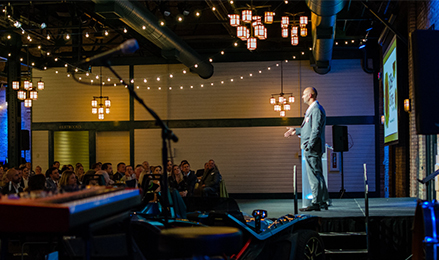 Miranda also invited other Polaris employees who have made an impact on her life. "The event was an incredible sharing of communal strength and support for a great cause," said Sean O., Experiential Marketing Coordinator – Slingshot. "The speakers, stories and atmosphere created a powerful and memorable energy. It was so special for Miranda to include Polaris and all of us who attended. We have had the pleasure of working with her and have seen her passion in everything she does."
"This evening made me admire Miranda even more. It was an honor to be welcomed into such a meaningful aspect of her life. To hear from and be surrounded by the Rein in Sarcoma community was truly inspiring" said Alex B., Associate Marketing Manager – Motorcycle Apparel.
"I used to view cancer as a weakness and I was ashamed to admit that I was a survivor for fear of judgment, but Polaris has been nothing but supportive," says Miranda. "I truly could not ask for more than what Polaris has done. I am extremely grateful to work for a company that is so caring and I want to say a huge thank you to Polaris and the teams I've worked with for being so supportive of me. I truly didn't think that I would find a place that so openly accepted me and my story."