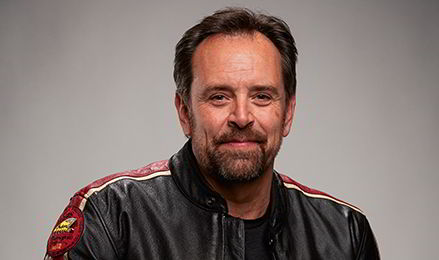 The People Behind Polaris – December Employee Spotlight: Greg B.
Industrial Designer. Team Builder.
Before arriving at Polaris nearly 20 years ago, Greg B., vice president, Industrial Design, spent time in Europe, working for some of the world's foremost automotive manufacturers. There, in studios in Italy, Switzerland, and Germany, he honed his talent for taking new ideas from clay models to on-road, performance-minded vehicles and where he fueled his passion for all things industrial design.
Those roads led him to California for a turn, and then to the North Star State and Polaris – where he added vehicles for a variety of terrains – snow, sand, dirt and water – to his design repertoire. In Greg's time at Polaris, he's helped move the brand forward, playing significant roles in the conception and design of the of the Slingshot, Indian Motorcycle and the RZR.
However, he says with a clear sense of respect, getting to work alongside talented teams throughout Polaris is how he gauges his success here. "I love to build teams and build the understanding and the organization of what we do as industrial designers."
Greg came into the company at a time when the industrial design department had yet to be established at Polaris, beyond the snowmobiles and some outsourcing of specific projects. "No one had an idea of how big an impact the department would have on the company," he says, recalling that there wasn't much of an understanding of what he and his small team of four would bring to the table. "It has been a really interesting journey to shepherd this department along to present day – and I would say, honestly, it was a labor of love on my side to build the team."
Today, the Industrial Design department roster sits at 50.
"The part that really fires me up is my team," he says. "They are what brings me in here every day, their effort. Guiding them, providing them an environment where they can be successful, and seeing them be challenged and succeed is one of my big motivating factors."
Greg shares that his team of designers are motivated by being able to see the results of their labors and accomplishing something that moves the needle. He believes that his department has a real drive to be number one, and that, he says, has allowed him to go all over the world to find incredibly talented designers.
"I'd put my crew up against any of the big automotive manufacturers any day of the week. It took a huge amount of support from the company. It took a lot of effort to get everybody here, but the team is truly amazing."
Tell us a little about your role at Polaris:
Every vehicle Polaris makes starts in the Industrial Design department. We're super product oriented. That's the really simple way to say it: everything that we make starts here. Engineering is a major partner of ours and we work with departments all across the company – from building to branding and everyone in between – to bring products to market.
What's unique about your role?
We're in a totally different area here in Industrial Design. Every day that you spend in Industrial Design is all about what's going happen to the company in the future – we're always looking ahead. In fact, I don't have do much with what's happening right now. We're designing for the future and what's to come, more than what's happening right now.
Over the years, we've added other departments inside Industrial Design: ergonomics, our own engineering arm. We get asked to do a lot of things that I think are slightly different or maybe very different than a normal design group. There's lots of lots of deliverables, loads of variety.
What have been some of your favorite projects to work on over the years?
Being at Polaris for the length of time that I've been here, and along with a core crew of about 12-15 people, we've worked on over 130 distinct products.
Working with the Snow team on the Rush chassis, several generations back, was one of the more significant programs that I was ever part of because it really signaled an understanding of what we in Industrial Design brought to the table. The Snow team's willingness to work with us on the next generation product was a big deal.
The Slingshot was also a very nontraditional design that the team spent a lot of time on. And then being a motorcycle guy personally, it was an honor and incredibly special to be a part of the team that brought the iconic Indian Motorcycle bike back to riders.
How does your team continue to stay creative and innovate for future designs?
We rotate people through three different studios, and we give them a lot of different experiences, including on the international level. We focus on getting our people out and into the market, to be able to understand our riders better and bring products to life that serve them. Our group has deep product, brand, and company knowledge because of the exposure we provide to many different experiences and places.
What does THINK OUTSIDE mean to you?
For me, I THINK OUTSIDE when I'm interacting with our products. I get inspired when I'm wrenching on stuff and I get inspired when I'm out driving stuff. I've raced RZRs for about eight years now and I get inspired by being around the racing. Whether it's being out at the Mint or racing on my own in Wyoming or Iowa or in the Western series races, my riding experience definitely informs how I think about the product.
Interested in joining Team Polaris? Check out opportunities with our Industrial Design team and other open roles at Polaris by visiting www.polaris.com/careers.