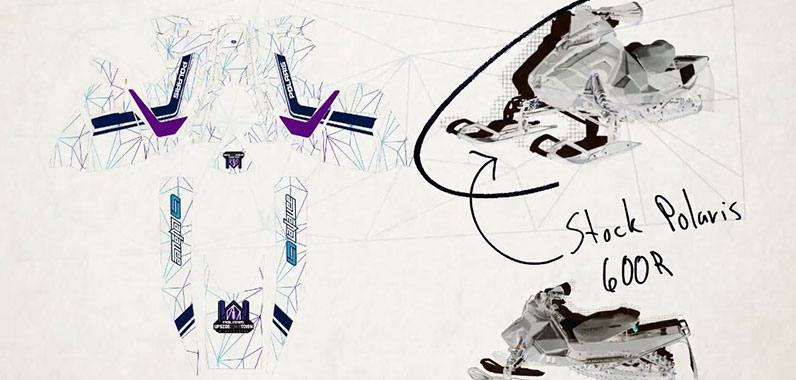 Levi LaVallee to Perform Thrilling Snowmobile Stunt at "Polaris UpsideDowntown" on Super Bowl LIVE Presented by Verizon
>
Minneapolis, MN (January 5, 2018) – With Super Bowl LII just 30 days away and excitement building, the Minnesota Super Bowl Host Committee and Polaris Industries, the global powersports leader, announced another feature attraction at Super Bowl LIVE Presented by Verizon, where professional snowmobile athlete Levi LaVallee will perform a backflip over Nicollet Mall. Polaris UpsideDowntown will be open February 3, 2018 from 10AM – 10PM. It will include snowmobile stunts and other outdoor fun in the Bold North. The snowmobile stunt show will take place at 1:30PM, finishing with Levi LaVallee signature jump over Nicollet Mall at 11th Street.
"Polaris UpsideDowntown is going to put the bold in Bold North," said Maureen Bausch, CEO for the MNSBHC. "Our goal is creating a Super Bowl experience in Minnesota that delivers unforgettable experiences for our guests, and Polaris and Levi LaVallee are going to put on a thrilling show for our visitors."
"Polaris was founded in Minnesota, and we are proud of those roots and the bold spirit they embody," said Scott Wine, Polaris Chairman and CEO. "Our company was born from a passion for adventure and enjoying the great outdoors, and we wanted to create a Super Bowl experience that honors that legacy. The result is Polaris UpsideDowntown, with longstanding Polaris partner and friend Levi LaVallee heading an adrenaline-pumping stunt show that is sure to entertain Minnesotans and Super Bowl visitors alike."
The stunt show features LaVallee, along with three other professional snowmobile athletes, including Justin Hoyer and Fred Rasmussen. LaVallee will conclude the show with a backflip on his snowmobile, launching nearly 100 feet between two ramps. A native Minnesotan, LaVallee holds the world record for snowmobile distance jump and is a seven-time gold medalist at ESPN Winter X Games (11 total medals).
Super Bowl LIVE presented by Verizon will stretch six blocks on Nicollet Mall, from South 12th Street to South 6th Street, with each block offering unique and exciting Super Bowl opportunities. Fans will see larger-than-life ice sculptures, national broadcast sets, and the Verizon Up Stage at Ice Mountain, where both local and national acts will perform throughout the free 10-day festival. Super Bowl LIVE presented by Verizon will also be the public's gateway to additional exciting events across the city, including Super Bowl Experience Driven by Genesis, the NFL's interactive theme park which will be located at the Minneapolis Convention Center. Visit SuperBowl.com for more details.
With Super Bowl LII just 30 days away, fans can visit MNSuperBowl.com or SuperBowl.com for exciting announcements and event updates!
About the Minnesota Super Bowl Host Committee
The Minnesota Super Bowl Host Committee is a private, non-profit corporation formed to plan and execute the festivities surrounding Super Bowl LII. For more information visit www.mnsuperbowl.com and follow @mnsuperbowl2018 on Facebook, Twitter, Instagram and Snapchat.
About Polaris
Polaris Industries Inc. (NYSE: PII) is a global powersports leader that has been fueling the passion of riders, workers and outdoor enthusiasts for more than 60 years. With annual 2016 sales of $4.5 billion, Polaris' innovative, high-quality product line-up includes the RANGER®, RZR® and Polaris GENERAL™ side-by-side off-road vehicles; the Sportsman® and Polaris ACE® all-terrain off-road vehicles; Indian Motorcycle® midsize and heavyweight motorcycles; Slingshot® moto-roadsters; and Polaris RMK®, INDY®, Switchback® and RUSH® snowmobiles. Polaris enhances the riding experience with parts, garments and accessories, along with a growing aftermarket portfolio, including Transamerican Auto Parts. Polaris' presence in adjacent markets globally include military and commercial off-road vehicles, quadricycles, and electric vehicles. Proudly headquartered in Minnesota, Polaris serves more than 100 countries across the globe. Visit www.polaris.com for more information.