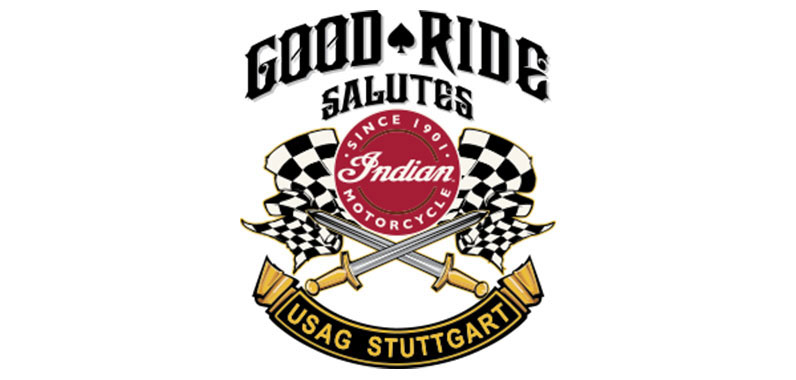 Indian Motorcycle & Carey Hart Bring V-Twin-Powered Armed Forces Day Celebration to Troops at U.S. Army Garrison Stuttgart
>
Minneapolis, MN (May 1, 2018) – Indian Motorcycle®, America's first motorcycle company founded in 1901, and freestyle motocross icon Carey Hart have partnered to take Hart's Good Ride fund-raising platform overseas to active soldiers based at U.S. Army Garrison (USAG) Stuttgart in Germany. On May 20, Good Ride Salutes USAG Stuttgart will honor U.S. military soldiers and the freedom they protect with an Armed Forces Day ride and barbeque celebration. In support of the honorary ride, Indian Motorcycle will donate up to $30,000 to the Infinite Hero Foundation from test rides completed at Indian Motorcycle dealerships during the month of May. In addition, donations to Hart's Good Ride (a 501C3 charity) can be made at www.goodriderally.com in support of active American troops and veterans.
In partnership with Family and Morale Welfare and Recreation (MWR), Indian Motorcycle and Hart will bring the Good Ride experience to a community of over 20,000 active military and their families. With an anticipated count of more than 200 participating motorcyclists, Hart will lead the ride from USAG Stuttgart through the picturesque Black Forrest and German countryside. Following the ride, the Armed Forces Day celebration will continue with a family-friendly barbeque, live music, prize drawings and a kids' zone.
"I've always held an immense sense of respect and gratitude for our troops, and that's why I've made the military, both active and veteran, the focus of Good Ride's efforts since day one," said Hart. "I couldn't be more proud and excited to bring Good Ride directly to our active troops overseas."
In support of Good Ride Salutes USAG Stuttgart, Indian Motorcycle will run a test ride promotion that will raise up to $30,000 for the Infinite Hero Foundation. As the primary beneficiary of Hart's Good Ride Rally, the Infinite Hero Foundation funds programs that drive innovation and accessibility of effective treatments for military heroes and their families dealing with service-related mental and physical injuries. For every motorcycle test ride completed at an Indian Motorcycle dealership in the month of May, Indian will donate $20 in that rider's name. Riders can schedule a test ride at a nearby Indian Motorcycle dealership at IndianMotorcycle.com.
"Indian Motorcycle's commitment to the American military dates back to the first World War, and it's something that will forever be a part of our brand DNA," said Steve Menneto, President, Indian Motorcycle Company. "It's both an honor and a privilege to bring a little piece of home overseas to these brave men and women with this special Good Ride event and Armed Forces Day celebration."
To further the Armed Forces Day celebration, Indian Motorcycle dealerships around the U.S. and Canada will host honorary military events on May 19. Many dealerships will offer food, drinks, and giveaways, including an Indian-branded multi-tool.
For more information about Good Ride Salutes USAG Stuttgart, or to find a dealer near you, visit IndianMotorcycle.com and follow along on Facebook, Twitter and Instagram.
About Indian Motorcycle®
Indian Motorcycle is America's first motorcycle company. Founded in 1901, Indian Motorcycle has won the hearts of motorcyclists around the world and earned distinction as one of America's most legendary and iconic brands through unrivaled racing dominance, engineering prowess and countless innovations and industry firsts. Today that heritage and passion are reignited under new brand stewardship. To learn more, please visit www.indianmotorcycle.com.