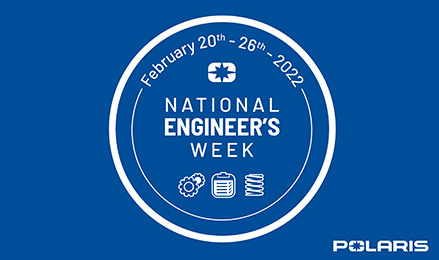 Employee Spotlight: Engineering the Future of Powersports
James Kip Finch, American engineer and educator, once said: "The engineer has been, and is, a maker of history."
We couldn't agree more.
Approximately 1,800 Polaris engineers across the company spend their days creating, designing and bringing new ideas to life for our riders and defining the next chapter in powersports.
Created by the National Society of Professional Engineers, this week – February 20-26 – marks National Engineers Week. In recognition of the engineering powerhouse here at Polaris, we are honored to highlight some of our own:
Jacob D. - Senior Product Design Engineer
What inspired you to be an Engineer? I grew up riding Polaris snowmobiles, working on farm equipment, and watching stock car racing with my dad. He helped me to develop my passion for powersports and my problem-solving skills. My grandfather had a career as a tool and die maker but was also quite the artist, from drawing to carving to metal working and even music. This developed my love for design at a very young age. My career as a design engineer combines all of these traits and I couldn't be prouder to recognize the people that inspired my journey.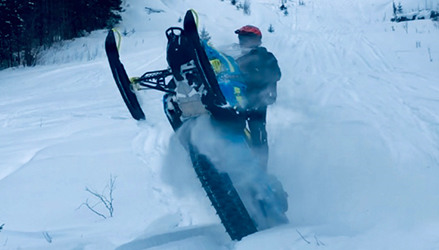 Colton R. – Systems Engineer
What is your favorite moment in your Polaris career? I don't have a specific moment, but I have "favorite days" every winter. There are not many jobs that allow you to ride snowmobiles and get paid for it. Our winters in the engineering department can be demanding, so getting out with a group of people to put miles on machines we worked so hard to design and build makes the hard times worth it.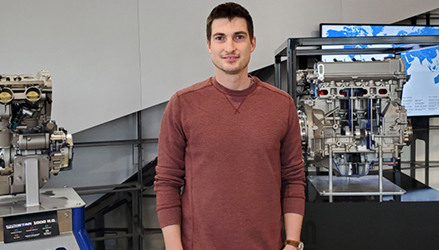 Ralph L. - Powertrain Program Leader
How do you THINK OUTSIDE? Striving day in and day out to help deliver the next generation of powersports that enables the absolute best riding experience possible.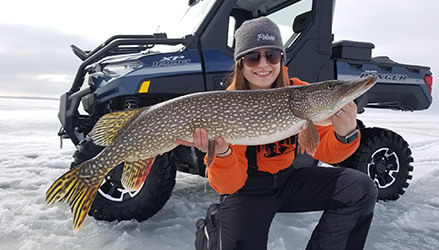 Alyssa J. – Program Manager
What inspired you to be an Engineer? Math has been my favorite subject since I was young, but it wasn't until I took a high-school aptitude test that I learned about Engineering and how I could apply my passion for Math to something other than teaching. It almost fell into my lap, but it turned into a career that I love.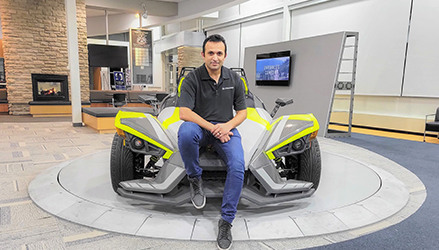 Pratik C. – Senior Engineering Manager
What is your favorite moment in your Polaris career? Being randomly stopped in the hallway in Roseau Engineering by David Johnson, one of the founders of Polaris!! He just wanted to say hi and introduce himself since he had not seen me in the office before and loved getting to know people working at Polaris. A 10-min introduction led to a Thanksgiving Dinner invitation and one of the best opportunities to hear Polaris' stories from the 1960 and 70s. That was one of the most memorable times of my career, getting to know the true Polaris gene that makes this company work!
Ryan B. – Senior Software Engineer
What inspired you to be an Engineer? I've always been into science and technology, wanting to understand how things worked. Legos were my toy of choice, and Star Trek my vision of the future. Technology became a kind of "magic" I wanted to wield myself. Learning to program BASIC on a Commodore PET in the third grade was like stepping into Hogwarts! But I also had a creative side to me. Storytelling was way to make something from nothing, bringing to life dreams and visions I couldn't yet do with computers. Then in college, I discovered writing software could be just as much a creative endeavor as writing stories: creating something from nothing within the constraints allowed by the technology of the day. So now, being a software engineer allows me to simultaneously learn how things work, harness the "magic" within the computer, and think creatively!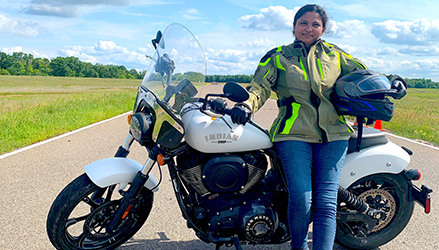 Rasika G. – Senior Project Engineer
How do you THINK OUTSIDE? I am very curious when it comes to learning new things in Engineering. At Polaris, I continue to get many opportunities to learn about new products, processes, and systems. I think outside by understanding the current processes and strive hard to continue process improvements with the help of my amazing peers. Riding on a motorcycle helps me get offline, enjoy the wonderful nature and think outside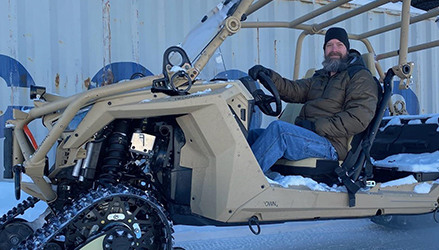 Brad B.– Senior Vehicle Architect
What is your favorite moment in your Polaris career? Developing the new MRZR Alpha. The vehicle has exceeded the customers' expectations and will be a great asset to the warfighters.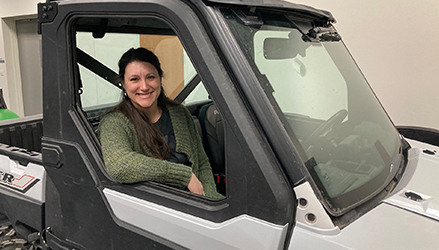 Andrea M. – Program Manager
What inspired you to be an Engineer? Growing up I often tried to understand the "how" and "why" of things. Also, starting from a young age, I have always liked solving problems. Those characteristics along with really enjoying science all through school made Engineering a great fit for me.
Interested in learning more about an engineering career at Polaris? Visit our career site to learn more.