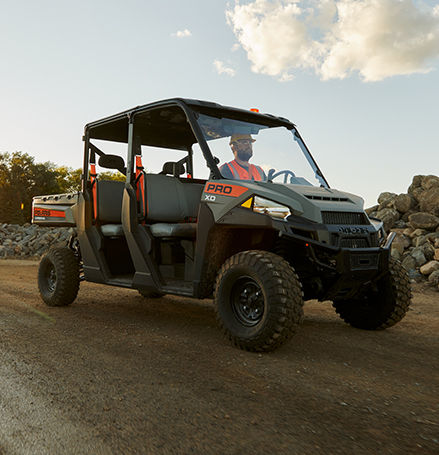 Polaris Pro XD Gears Up for 2022 with All-new Features Made to Work
Enhanced components provide greater vehicle uptime, durability and safety
MINNEAPOLIS, December 15, 2021 – Polaris Commercial, a division of Polaris Inc. (NYSE:PII), is committed to ensuring the Polaris Pro XD hauls the most, tows the most and has the most available features that fit the tough demands of the jobsite. This means listening to the use cases of our customers, continuously putting the Pro XD to the test and updating components and accessories to further enhance work tasks. Starting in January 2022, Pro XD models will include additional heavy-duty and innovative features to increase vehicle uptime and provide increased vehicle capability and convenience.
"The Polaris Pro XD is designed specifically for durability, serviceability and safety – and we want to ensure the vehicle is always providing the greatest value for our customers," said Aaron Stegemann, vice president, Commercial Utility Vehicles, Polaris. "We are constantly listening to how customers use the Pro XD. By doing so, we can thoughtfully expand vehicle capabilities that continue to make the Pro XD the most capable and preferred work UTV."
Heavy Duty Components Enhance Longevity and Safety
Extended-life brake pads are now offered as an optional accessory to further aid Pro XD in handling tough jobsite conditions with ease – including driving through mud, extreme payloads and towing. An increased pad density, higher friction capacity and added noise insulator increases brake pad longevity by up to two times that of traditional pads, while providing smooth and quiet braking capabilities and 30 percent less pedal effort for the operator.
A newly incorporated heavy-duty oil filter for the full-size gas models extends vehicle uptime as well by keeping oil clean through the toughest conditions. An advanced synthetic material is built into the filter to offer the highest debris-holding capacity, maintain oil flow and maximize performance. Additionally, a steel center tube helps withstand damage from heavy vibrations or high temperatures.
New left- and right-hand side mirrors are available, and can be poly-door or ROPS-mounted on all Pro XD models. These fully adjustable mirrors can fold in to navigate through tight spaces with ease, while increasing operator visibility and safety.
Selectable On-Demand 4x4 Drive Mode for Optimal Performance
When the work has to get done, customers rely on the Pro XD through rugged site conditions and tough jobsite duty cycles. Now, with the ability to select an optimal drive mode in all Pro XD models, the vehicle provides greater performance and safety through any conditions – from rugged terrain to loose gravel to snow and ice. The On-Demand selectable drive modes (AWD/2WD/VersaTrac Turf) come standard on all new full-size Pro XDs allowing the operator to dial in the right drive system type to fit their needs. The ability to control how power is distributed through the tires further increases jobsite productivity, vehicle capability, and tire longevity depending on the drive mode.
New Charging Ports for Increased Uptime and Productivity
Integrated USB ports within the dash are now standard on all Pro XD models, providing on-site charging of devices at anytime, anywhere. Added ports allow customers to focus on the work at hand without worrying about a drained device or lack of communication method when out on a jobsite.
An all-new on-board starting battery charging port (BIIT port) provides customers the ability to plug in a trickle-charger for increased longevity. With these ports, customers have peace of mind knowing the vehicle battery will be charged and the UTV will be ready to work at a moment's notice – even if the Pro XD has been sitting idle for a significant period or season.
Safety, Durability and Serviceability Features Customers Know and Love
The Pro XD continues to provide the vital safety features the vehicle was established on. Safety components include adjustable speed calibration, operator warnings, back up horn and pedestrian alarms, highly visible lights, and improved sightlines for greater visibility. Built to last, the Pro XD also provides heavy-duty wheel bearings, driveshafts, puncture-resistant Kevlar®-backed vinyl seats and continues to be the only work UTV featuring heavy-duty 8-ply tires.
The complete Pro XD lineup – which includes the newest Pro XD mid-size model – continues to provide best-in-class towing, box and payload capacity, while offering unmatched versatility and customizability to enhance productivity in all climates. The newest enhancements to the Pro XD line-up further establish a commitment to providing a UTV made to work, and always with the customer in mind. Key accessories, including heavy-duty brake pads, heavy-duty oil filter and side-mirrors are also backwards compatible and can be incorporated into previous model-year Pro XD UTVs.